Team Leadership
---
---
---
---
leadership is the cornerstone to a team's success. A strong team leader can lead the team to high performance level. Leaders were many different hats to motivate their team
---
The team leader needs to focus on these four key concepts:
1. Common Goal: The team leader needs to define the goal and motivate the team.
2. Synergy: Team leadership needs to use all the talents, skills and abilities of each team member to reach the full potential of the team. Group strength is more important than, than individualism.
3. Ownership: Teams must be committed and own the team's goal and vision. The leadership has influence over a team's reaction the goal.
4. Results: The team leader must keep the team accountable for the results and performance of the team.
---
Introduction to Team Building Techniques helps increase motivation, promote unity, strengthen corporate and team culture by using proven team building activities.
---
---
Team leaders can develop their leadership skills by attending a local community college. I would recommend you take a public speaking, management, and human resources classes. You can read biographies about famous leaders. I like to read books about famous coaches. Volunteer for leadership positions with your local non-profit organizations. Find a mentor; ask him or her to help you. Leadership is an on-going process. Embrace life-long learning.
---
We can learn leadership skills form Abraham Lincoln.

---
You've got to be tenacious to become a team leader. You need to lead your team to a vision and goal. Whenever, you have had a tough day, think about Abraham Lincoln. Man, you'd have to be tough to run this marathon of failures and/or absolutely believe that you are on the right track. Look at all the setbacks of the greatest USA President. He preserved. He led the USA during the Civil War. Check this time line out:
Failed in business - 1831
Lost election for legislature - 1832
Failed again in business - 1834
Sweetheart died - 1835
Nervous breakdown - 1836
Lost second political race - 1838
Defeated for Congress - 1843
Defeated for congress - 1846
Defeated for congress - 1848
Defeated for US Senate - 1855
Defeated for vice President - 1856
Defeated for US Senate - 1858
Elected President - 1860
---
So, the next time you feel like you are having a tough day. Just look at the career timeline of Honest Abe
---
If your team is struggling then , ask the team these self –evaluation questions. 1. Which team member brings the team members together? 2. Who helps the team make decision? 3. Who keeps the team on task? 4. Who keeps the team in positive attitude and mood? 5. Who helps the team change? 6. Who motivates the team? 7. Who provides the feedback for the team? 8. Who encourages the team when things are tough? Debrief the team and ask team to come up with solutions to resolve the team leadership issues.
---
---
Teamwork| Motivation| Quotes| Outdoor Teambuilding| Coaching|
---
---
---
---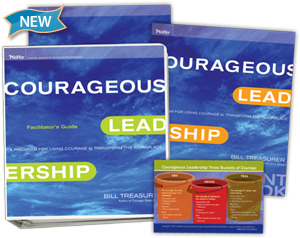 Courageous Leadership
A Program for Using Courage to Transform the Workplace

We have high and often conflicting expectations of leaders. Be reasonable but passionate. Decisive but inclusive. Visionary but explicit. Powerful but humble. Add to that emotionally intelligent, caring, impartial, people-oriented, and of course, profit-driven. The list is so long that it often leaves leaders scratching their heads, thinking: how am I supposed to be all of these things at once?

The answer is courage. It's what enables a leader to face tough times and step up to the plate. It is what gives leadership its backbone.

Courageous Leadership is a comprehensive training package that introduces courage-building, a practice that guides leaders to meet challenges more readily, embrace change more fully, and speak more assertively. Courage-building is all about developing capable and confident leaders who can transform organizations. A combination assessment, workbook, and workshop, Courageous Leadership gives leaders at all levels the foundational skills and abilities they need to become more courageous.

Learning Outcomes: Understand the impact fear has on personal and organizational performance.
Identify which of the three types of courage one uses most often.
Learn about three types of courage and when (and how) to use each.
Discover two distinct ways of leading that inspire more courageous behavior.
Find opportunities to apply courage frequently. Uses for Courageous Leadership, Courageous Leadership can be used at multiple levels of your organization. It's particularly appropriate for mid-level managers, and it also provides many benefits to new and emerging leaders.

How It Works:
The Courageous Leadership Profile helps identify which type of courage leaders choose most often, and highlights which areas require more confidence. It pinpoints the situations in which they are likely to act courageously, as well as those situations in which they are most likely to "play it safe."

The participant workbook offers tips and techniques for raising one's scores in the area that would benefit from the application of more courage.

The Courageous Leadership workshop introduces people to a specific understanding of courage, illustrates how they can become more courageous, and demonstrates the vital role courage has in the workplace and our lives.
Go to HRDQ, to find this tool,

---
Legacy Leadership Competency Inventory

Growing tomorrow's leaders today

Dr. Jeannine Sandstrom and Dr. Lee Smith

Most people think the term "legacy" is something you leave behind when you're gone. But what if you were living your legacy now? What if your vision for the future was evident in everything you do, every day? Welcome to Legacy Leadership, a philosophy, model, and proven process for bringing out individuals' best, developing other leaders in the organization, establishing leadership culture, and positively impacting the bottom line. In a nutshell, it's about building the foundation for real-time legacy in today's organizations.

What makes Legacy Leadership different from other programs is that it offers a compelling set of leadership practices that are designed to perpetuate a cycle of leadership development. It delivers a comprehensive framework of practices, behaviors, attitudes, and values that address every aspect of successful leadership – regardless of industry, experience, or organizational role.

Legacy Leadership is based upon The 5 Best Practices of the "being" and "doing" of leadership:

1. Holder of Vision and Values

2. Creator of Collaboration and Innovation

3. Influencer of Inspiration and Leadership

4. Advocator of Differences and Community

5. Calibrator of Responsibility and Accountability

Learning Outcomes:

Understand that legacy is created by leaders, who in turn develop other leaders.Learn The 5 Best Practices Model and the associated 10 Critical Success Skills. Top 3 strengths and challenges in each of the 5 Best Practices How to shift one's thinking to serve other's first, then oneself. Develop an action plan for becoming a Legacy Leader. How it Works:

Legacy Leadership that offers comprehensive learning tools for both the individual and the facilitator, including an Online Self Assessment, Online Multi-Rater Assessment, Participant Workbook, Facilitator Guide, and a One-Day Workshop. Combining the results of the learning instrument together with relevant personal experiences and the instructor-led program, individuals are well equipped to formulate an actionable development plan for becoming a Legacy Leader.

About the Authors

Dr. Jeannine Sandstrom

Dr. Jeanine Sandstrom, Master Certified Coach and CEO of CoachWorks International, is a globally experienced Executive Coach who partners with C-Suite executives to optimize leadership performance. As a proponent of life-long learning, she believes in constant training and conditioning to be prepared for life's decisive moments and biggest opportunities. Jeannine employs expert leadership training methodology to condition executives to perform at the top of their game. She advises on complex strategic matters and partners with leaders in taking concrete actions for immediate results. This approach encourages timely breakthroughs, improved performance and bottom line results.
Dr. Lee Smith Dr. Lee Smith
is a highly experienced Executive Leader Coach working with C-level leaders and their executive teams. She has a proven record in coaching and developing leaders in realizing solutions to critical executive issues, addressing change and delivering results. In her work, Lee serves as the coach, leader, strategic change agent, teacher, encourager and trusted advisor. As President of CoachWorks® International, her clients include Fortune 500 companies and other organizations and non-profits. Lee holds one of the first international certifications as Master Certified Coach. Her doctorate is in Organizational Behavior and Psychology with an undergrad in Business. She has authored books, coaching programs, and assisted in establishing standards/ethics for the coaching profession.
Learn more about this leadership tool at HRDQ. Click here now
Click here to visit HRDQ

---