Coaching Trends
Custom Search
---

The Society of Human Resource Management's (SHRM) December 2008 report, "Key Priorities for the HR Profession Through 2015," states that COACHING IS A TRAINING METHOD ORGANIZATIONS CAN USE TO RETAIN THE KNOWLEDGE OF MORE EXPERIENCED OR SKILLED WORKERS SO YOUNGER EMPLOYEES CAN BENEFIT FROM THEIR KNOWLEDGE AND EXPERIENCE. This is especially key during these economic hard times.
---
THE VALUE OF COACHING
Research suggests that the main causes of stress in Americans' lives are juggling work and their personal lives, lack of job security, people issues, and workload. Generation Y and Baby Boomers alike take unplanned days off from work as a way to deal with stress, which increases over time.
The value of coaching can be measured in the overall improved performance of individuals and teams. Coaching helps people through transitions, clarifies priorities, boosts team members' morale and helps positively shape attitudes. A team leader who cares enough about his or her team members to help and train them will gain their trust, cooperation and confidence.
Coaching helps employees move beyond their limitations. They grow with their own sense of satisfaction as a vital part of the team and the organization, and they are optimistic about their future in the organization. Isn't that what you want --- positive, enthusiastic employees serving the customer?
Coaching is a valuable way to build teamwork through communication, shared goals and collaboration. It also keeps the team focused on running the business and serving customers.
With our (A) DEVELOPING & COACHING OTHERS and (B) COACHING JOB SKILLS Programs (Instructor Kits for your delivery plus Online Courseware), your managers and team leaders will learn the coaching process that is so often neglected. They will learn how to identify coach skill performance problems early, before problems become out of hand. They will also learn to communicate in coaching terms that improve employee performance and productivity.
---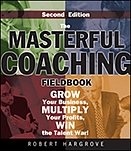 The Masterful Coaching Fieldbook

Robert Hargrove shares his secrets as a masterful coach with leaders of all levels: Coaching is about realizing an impossible dream and winning at the great game of business, not just about changing attitudes and behaviors.

This book describes:
How to find the best talent on earth. How to create an impossible future and WIN in your business. How to create a winning game plan. How business can be the ultimate self-development and growth experience. Find this book at HRDQ. Click here to visit HRDQ
---
Kalavati.org provides online and face to face executive coaching and workshops to assist business owners and directors with 'personal development, leadership training and team growth.' http://www.kalavati.org
---
THOUGHT FOR THE DAY "Coaches don't run out on the field and play the game instead of the players; neither do they sit in the stands behind a brick wall listening to the game on the radio." --- Mary Shurtleff and Steve McKenzie
---
---

Teambuilding brings great results. Use TOOBEEZ to connect your group! Trainers, teachers, coaches love this tool.
---
Team leaders need to be effective coaches. Coaching your team members
---
---

Get Your Team Working Together!
Perfect for both kids and adults!
Free Teambuilding Activities, Books, and Videos!

---
Become a webmaster and build your own website with SBI !
---
Learning , Self confidence-Simplified
want to learn all about self confidence in simple steps, you have come to the right place. Everybody wants to learn how to project confidence. Sometimes this want is in the subconscious but its there nonetheless. And even people who look confident also have insecurities and fears lurking inside. At the same time, all of us are pressed for time. You dont want to go through pages and pages of content to get that one insight or perspective which might help you. In keeping with our aim of simplifying your life, brevity forces us to present only those ideas which will have the highest impact for you. Mt friend, Maneesh can help you now. Click here for more on:
---
---
---
When we think about courage, it's usually stories of heroism that come to mind. But for millions of women around the world, courage comes in a very different way. It's a quiet voice that gives them the strength to go for another day.
Take 3 minutes and be inspired by this new movie celebrating the courage and strength of women just like you.
Enjoy this highly inspirational movie that shares the beautiful poem, Courage Doesn't Always Roar, that captures the quiet strength of ordinary women with extraordinary courage.
Courage Does Not Always Roar movie link ~
---

Leadership Sampler Set - $ 49.95
Leadership lessons that should be in every managers library. Each one has an unforgettable message and makes a great meeting takeaway!

---

The Right To Lead - $ 15.95
In The Right to Lead, you will read about people who have earned the right to lead others. They became effective leaders not by making other people follow, but by making themselves the kind of person people would want to follow.

---
---
---