Toronto Team Building
---

---
---
---
Toronto, Canada is an excellent location for your next teambuilding event. Your hockey fans can visit the NHL Hockey fans or your theater buffs can catch the latest Broadway musical. Toronto has an underground city called the "Path" You could design a custom treasure hunt or scavenger hunt for a half a day. Toronto offers a wealth of diversity, cultures and teambuilding opportunities. Visit The Path:
PATH is downtown Toronto's underground walkway linking 27 kilometers of shopping, services and entertainment. Follow PATH and you'll reach your downtown destination easily in weatherproof comfort. The Path

---
Send Mother's Day Flowers to Canada
---
Toronto Team Building is Greater Toronto's leading resource for corporate team building events, group activities, and experiential training programs. At Toronto Team Building we have a myriad of unique solutions to all your team builder needs, regardless of the size of your group, your desired activity location, or the motivation behind planning your team building exercise. Typically we work with business managers who are unsure about how to boost morale and reward their staff, frustrated with a lack of communication amongst employees, or concerned that their past events were not effective at building camaraderie. We provide responsive and flexible solutions that are aimed at keeping your employees engaged, motivated and enjoying being a part of your team. They offer The Apprentice, Green Team ECO, James Bond 007, Urban Olympics, Iron Chef BBQ, Corporate Castways, GPS Challenge, Art Smart, plus you own custom team events. Toronto Teambuilding
---
Toronto Team Building: Urban Safari and Corporate Scavenger Hunt will help you boost team spirit and build more cohesive departmental and cross functional teams. This Toronto team building session is available as a:
full day, simulation with business related debriefing
· half day, strictly recreational event to help team members relax and get to know each other better From time , lonely travelers have wandered the desert in search of the next oasis to refuel, re-chart their course and find the strength to continue their journey. Now more than ever, the members of your team need a chance to pause, build relationships, reflect, and generate strategies to tackle the demands they face on a day to day basis.This unique team building experience in Toronto, an urban safari, is a simulation of a trek across a desert. It is a cross between a car rally, scavenger hunt and a treasure hunt. It will the members of your team a chance to get to improve their relationships in a non-threatening environment.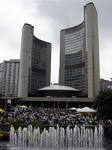 ---
Team building Toronto harbor cruises are constructive, educational, and fun. Our professional corporate event planners have created a great selection of team building activities and themes to choose from or they can create a specific activity or theme just for your company. We offer you the option of bringing your own facilitator on board or we can orchestrate the entire team-building event for you. Our corporate team building activities are designed to be fun and achieve many positive results: · Team building games have a bonding effect, creating better team players · Corporate team building that includes people from all echelons of the company allows for more relaxed interaction and makes it more comfortable for employees to get involved and express their opinions · Team building exercises inspire creative thinking Successful team building activities inspire employee loyalty, improve employee retention and lessen absenteeism Charter the Escape T.O. for your next team-building event. Our Toronto harbor cruises are available from April to October for groups of up to 100. The Escape T.O. has the look and feel of an exclusive private yacht without the exorbitant costs. Our team building Toronto harbor cruises are extremely affordable and will appeal even to the most budget conscious companies. We offer extensive menu choices including snack foods; sandwiches, hors d'oeuvres and finger foods, hot and cold buffets, barbeques, and full sit down lunches and dinners. After the team building activities have been completed, our fully licensed bar and professional sound system can turn your team-building event into a great party.

---
---
---
---
---
---