Personality Style for Dummies
---
Learn more about; Personal Development Click Here
---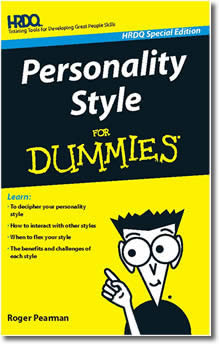 Personality style. It's the primary driving force behind human behavior. Knowing its ins and outs will shed light on just about everything people do, from leadership to communicating with others to being a team player.
Understanding how personality style works is very simple. In fact, it all boils down to assertiveness and expressiveness, two fundamental behaviors that combine in varying degrees to formulate four basic personality styles: Direct, Spirited, Considerate, and Systematic.

The newest addition to the bestselling HRDQ Style Series, Personality Style for Dummies provides a great way to get a grasp on personality style. This handy reference guide introduces the four personality styles, illustrates how they apply to a wide range of organizational situations, shows readers how to spot someone else's personality style, and offers tips for "flexing" personality style in any situation.
Click here to visit HRDQ

Learning Objectives Discover and understand one's personality style Identify the common characteristics of each personality style Learn the benefits and challenges of each personality style Understand how to adapt your personality style to interact with others Personality Style for Dummies is an excellent resource for self-study learning and as a follow-up to classroom training. Whether you use it as an introduction to personality style or give it to participants as a takeaway, this book will quickly become a handy reference tool to keep at the ready!
---
About the Author
Roger R. Pearman is a highly respected subject matter expert on personality, leadership, and effectiveness. He has served as a senior adjunct faculty and coach for the Center for Creative Leadership, and is the author of several articles and books, including Hardwired Leadership, I'm Not Crazy, I'm Just Not You, and Leadership Advantage. Roger is the founder of two companies, Leadership Performance Systems, Inc. and Qualifying.org, Inc., and his clients span both the public and private sectors, including the United Nations, Merck, Citigroup, SAP, and the Marriott Corporation.
Table of Contents: Introduction Chapter 1: Defining Personality Style Chapter 2: Deciphering Your Personality Style Chapter 3: Applying the Four Styles in Communication Chapter 4: Applying the Four Styles in Leading Chapter 5: Applying the Four Styles in Teaming Chapter 6: Applying the Four Styles in Selling Chapter 7: Applying the Four Styles Chapter 8: Applying the Four Styles in Coaching Chapter 9: Applying the Four Styles in Learning Chapter 10: Top Behavioral Clues to Identify Style Chapter 11: Top Rules for Interacting Chapter 12: Top Ten Personality Style Tips
Order this book today, from HRDQ,
Click here to visit HRDQ

---
---
---
---
What are your goals?

---
---
---
---
---
---
---
---