Empowerment Skills
Custom Search
---
Wise leaders know that power is an unusual kind of currency. The more you give it away, the more you end up having.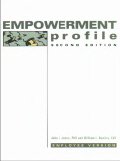 Help leaders understand this essential concept with the new edition of the Empowerment Profile - an in-depth instrument that provides leaders with a measurement of the degree to which they perceive themselves to have power at work.
Participants create two profiles: one based on their assessment of their own empowerment, the second profile based on scores compiled from the leader's employees' assessments of their own empowerment. The 40-item assessment measures perceptions of empowerment along 8 dimensions, including autonomy, climate, control, and influence. Together, the two charts provide a complete look at empowerment in the leader's work environment.
The Leader Version includes the leader's self-assessment and the profiles. Background information and an action planning section help leaders understand how to empower themselves and their employees. The Employee Version contains only the employee's self-assessment. It is designed to provide leaders with data on how empowered their employees actually feel.
You can find this tool at HRDQ.Click here to visit HRDQ
---
---

Reproducible Program Library: Employee Initiative: How to Make it Happen
Employee Initiative: How to Make It Happen is a (1/2 Day Program)
Many managers complain that their employees? work is incomplete and lacks professionalism. On the other hand, many employees complain that their managers don?t let them do interesting projects. The solution to both situations is accomplished by empowering employees and requiring accountability in return. In this program you will learn how to create a shared vision with your employees and identify and overcome obstacles to empowerment. You will establish meaningful accountability measures and evaluate the most effective way to "make it happen."
The HRDQ Reproducible Program Library comes in half-day to multi-day formats. Select the individual titles you need, choose from pre-selected topic series, or purchase the entire collection to own the ultimate training library. Each program comes ready to train with printable Participant Guides, an easy-to-use Facilitator Guide, and a Microsoft PowerPoint presentation. Most programs include additional content such as quick reference cards. That's not all - they're fully customizable, so you can add your company brand, tailor the content to your specific industry or organizational needs, and print on demand.
We also provide you with simple instructions for downloading your programs. Each program is provided in a zipped file which includes Microsoft Word and PowerPoint files for all components. There is no waiting for delivery or CD's to damage or lose.
HRDQ has thid tool,
Click here to visit HRDQ
---
---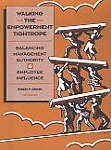 Walking The Empowerment Tightrope Book

Find the balance between empowered work groups and appropriate leadership strategies with this provocative book. A comprehensive mix of learning exercises, action plans, and behavioral theory, Walking the Empowerment Tightrope focuses on 25 cognitive and behavioral factors identified as key to the development of High Group Performance.

Chapter Highlights:
Empowerment and High Performance. The 25 High Performance Factors. Action Ideas for the 25 Factors. Focus on System Change, Not Individual Change. Survey Feedback: Turning Data Into Action. Also included are appendices that offer information on such related topics as: Self-Managing Teams, Effective Facilitation, Organizational Roles, and Problem Solving. Author: Robert P. Crosby

Find this book at HRDQ:
Click here to visit HRDQ
---
Tote & Train: Employee Initiative: How to Make it Happen Facilitator Kit

Introducing Tote & Train Programs If you're in need of a convenient and affordable way to meet your ongoing workplace learning needs, look no further. Introducing Tote & Train, a library of 80 half-day to multi-day classroom training programs. You choose the titles you want; we deliver everything you need to train up to 10 participants.

Getting started is easy

Each training program kit comes complete with a Facilitator Guide, 10 Participant Guides, and a PowerPoint® presentation on CD-ROM, all packaged neatly in a sturdy tote bag. No certification is required, so you can train at a moment's notice. Training more than 10 people? Scheduling multiple sessions? No problem. Simply order additional Participant Guides as needed.

What you get:

Each complete kit includes enough materials to train up to 10 participants:

Facilitator Guide with step-by-step guidelines.
10 Participant Guides for classroom learning. PowerPoint presentation on CD-ROM,
Sturdy tote bag for on-the-go training.
What's available:
There are 80 programs from which you may choose. Here are just some of the popular titles:
The Art of Successful Communication,
First-Time Manager,
Increasing Your Emotional Intelligence,
Juggling Multiple Priorities
Leading Through Change: Find these tools at HRDQ.Click here to visit HRDQ
---
---

Benchmark of Team Excellence was developed as part of an extensive research project that investigated the relationship between various leadership behaviors (visionary leadership behaviors and good management practices) and the level of excellence in the manager's team. A thorough review and synthesis of the literature revealed 6 indicators of excellent work units: alignment, team effectiveness, empowerment, passion, commitment, and results. You can find this resource at HRDQ,
Download the complete Theoretical Background for Benchmarks of Team Excellence. Learn more at HRDQ:
---
---
---
---
ENGAGE: Connect at a Higher Level

It's logical to think that an engaged employee is a productive employee. But did you know that the ability to engage employees goes beyond just job satisfaction? It's a competitive strategy. As MGM Hospitality President and CEO Gamal Aziz recently told Business Week, "Imagine taking 10,000 employees, and each and every one of them wanting to give more. That's really the difference between [us and] a company that has its employees just punching the clock and trying to get through the day."
Research proves it. Engaged employees are more satisfied, more productive, and less likely to leave. There are benefits for the organization in the marketplace as well. Gallup reports that engaged organizations have 3.9 times the growth rate of those with lower engagement within the same industry.
So what is the number one determining factor of employee engagement? The level of connection an employee has with his or her leader. It's pretty simple: The stronger the connection, the higher the level of engagement.

Here's a great way for managers to build those relationships and gain a competitive advantage.

The ENGAGE Card System is a new research-based training tool that offers an interactive, step-by-step framework that encourages the conversations that lead to employee engagement.
How it Works The leader uses a series of open-ended questions that are contained within a sequential, five-level framework, each representing a different focus. Modules can be used in one sitting or broken up into two or more sessions.
Level One: Foundation (approx. 10 – 15 minutes) The employee is encouraged to discuss perceptions regarding the organization, mission, resources, and culture.
Level Two: Environment (approx. 15 minutes) The employee is asked to share what is important in the work environment.
Level Three: Relationships (approx. 15 minutes) The employee discusses how to best make connections and form relationships with the leader and others.
Level Four: Strengths (approx. 35 minutes) The employee considers and discusses his/her unique workplace strengths.
Level Five: Reflection (approx. 10 – 15 minutes) Both leader and employee reflect on what they learned through conversation and how to best incorporate and use the information moving forward.
The ENGAGE Card System provides leaders with Self-Assessment and Planning Sheets to prepare them for the exercise. It also includes Recap sheets that serve as a summary and action plan for both the leader and the employee as they complete each step.
Uses for ENGAGE
The ENGAGE Card System has many applications, including: Mentoring, New employee orientation, Corporate transitions or re-organizations, Assignment of roles and responsibilities. Product Type
Game
Objective To assess and develop employee engagement
Time Required 2 hours
Go to HRDQ to find this tool:

---
---