Team Building Skill
---
---
---

TeamBook consists of 27 activities to improve group functions and achieve effective human relations by providing exercises in the fundamental principles of team building, team building goals and participant guidelines.

TeamBook is a collection of ideas and exercises for use by trainers or program designers who are engaged in the effort of helping work groups to develop into teams. Keeping the conditions, goals, and guidelines of TeamBook in mind will assist users to develop from work groups into more effective teams.
The materials are intended as a catalyst for the orderly improvement of group functioning toward the attainment of effective human relations and consistently high levels of task functioning. TeamBook consists of 27 activities to improve group functions and achieve effective human relations. The introduction provides the fundamental principles of team building, team building goals and participant guidelines.
The Book Contains 5 Sections:

Section 1: Starters (Ice Breakers) Contains 3 exercises such as "Team Starter" for teams whose members each manage the work of others who are external to the team.
Section 2: Energizers (Energize Your Group) Consists of 4 exercises such as "Nerftime", a high-involvement activity using Nerf® balls to demonstrate the unnecessary restrictions we often put on ourselves.
Section 3: Interpersonal Feedback (Interpersonal Perceptions) Consists of 4 exercises such as "Cards Lineup" which shows how to give and receive precise appreciation's of one another in a dramatic and forceful manner.
Section 4: Diagnostics (Group Effectiveness) Consists of 12 exercises such as "Test #2" recognizing common memory through a quick, problem solving exercise.
Section 5: Planning (Concrete Action Plans) Consists of 4 exercises such as "Strategic Action Planning", a step-by-step plan to over come barriers to realizing team and organizational goals.
Find this team building book at HRDQ:Click here to visit HRDQ
---
---

Team Development Activities For Trainers
Searching for a fresh collection of team development activities? Look no further! Introducing Team Development Activities for Trainers, a collection of 59 exercises that address the skills most critical to team development, including communication, planning, problem solving, and more.

The activities provide the vehicles for team members to enjoy a common experience; explore, discuss, and resolve issues that have arisen; and then apply what they have learned to their work. Additional features provide trainers with resources to make team development easier and more effective, including a program design framework, checklists for use with activities, and an index of games organized by skill (objective).
Uses for Team Development Activities:

The activities in this collection have been used in many different industries and by those in various job functions, including the military, financial services, higher education, secondary schools, nurses, teachers, IT specialists, pharmaceutical managers and others. Team Development Activities for Trainers addresses a full range of skill areas including:
Assertiveness, Communication, Creativity, Decision making, Delegation, Feedback, Influencing, Listening, Planning, Problem Solving, Time Management, Team Leadership, and Product Contents.

Step-by-step facilitator guidelines:
Learning objectives. Design Framework for Team Development Programs. Checklists for Use in Facilitating Team Development. Index of Activities by Objectives. Reproducible participant materials.
Activities include:

· Alternative Routes · The Amazing Electric Team Leader · Are We a Team? · The Bayeux Tapestry · Build Us a Crane · Candle Snuffing · Choose Your Own Sport · Classic Cars Auction · Cock of the Walk · Communications Audit · CompuSpeak · Cooks' Dilemma · Creative Weighing Machines · Customer Clusters · Delegation Is Good for You · Describe Your Work Team · Disappearing Golf Balls · Draw Us a Map · The Four Seasons · Go-Carting · Himalayan Saunter · How Do You Manage Your Meetings? · How Healthy is the Patient? · Leadership Styles and Values · Like the Hat? · Managing Boundaries · Motive Power at Work · Music Maestro · News Clues · Noah's Ark · On Average… · Open Access · Pegging away · Penny Pitcher · Please Join Our Team · Polybricks · Queen's Time · Sell Us a Sport · Sell Your Team · So What Are You Going to Do About It? · Star Performer · Straight from the Horse's Mouth · SuperAnt · Symbols of Your Work Team · Team Climate Survey · Team Development Checkers · Team Development Goals · Team Effectiveness Review · Team Leadership Styles · They're Dancing to Our Tune · Tic-Tac-Toe · Tykes Verses Romans · Viking Chess · Want a Job? · What Do You Advise? · Where Are You Now? · Who Are Our Competitors? Find this team building tool at HRDQ:Click here to visit HRDQ
---
Introduction to Team Building Techniques helps increase motivation, promote unity, strengthen corporate and team culture by using proven team building activities.
---
---

Pump Them Up! Activities
Your team is floundering, morale is low - you're not sure what the problem is, but you know you need to do something fast. How do you pull together a team-building workshop that is guaranteed to work?
You need Pump Them Up! - a collection of 35 reproducible team-building workshops conveniently packaged in a 3-ring binder. In as little as two hours you can provide teams with on-target, hands-on training that will re-energize, re-focus, and re-commit team members.
Begin with one of the four reproducible assessments - great for pinpointing your teams' developmental needs. Then select from a collection of 35 fresh, innovative workshop activities that get participants thinking and doing. The binder also includes 7 additional inventories to enhance the workshop activities. All the materials are fully reproducible!
Workshop topics include: Goals and Procedures, Communication, Trust and Conflict Resolution, Problem Solving and Decision Making, Leadership, Growth and Development, and Group Dynamics.
Detailed information for each workshop includes objective, background information, materials list, reproducible participant hand-outs, preparation guidelines, and step-by-step procedures for conducting the workshop.
Pump Them Up! Includes:

35 reproducible workshop activities. 4 reproducible assessments for diagnosing team strengths and weaknesses. 7 additional reproducible assessments for enhancing workshop activities. Pump Them Up! provides 70 hours of team training!
Go to HRDQ to learn more about Pump them Up ! Click here to visit HRDQ
---

What's My Team Member Style? Assessment
Team performance begins with individual performance. So, what do team members need to do individually to contribute to their team's success? What's My Team Member Style? provides the needed insight. The 18-item assessment helps individuals evaluate how they typically behave on a team and the results reveal their preference for one of 4 team member styles. With increased awareness, they are able to appreciate other team members' contributions and address differences proactively.
Learning Outcomes: Learn about the 4 team member styles. Identify personal team member style. Understand how to capitalize on style strengths and improve trouble spots. Identify the styles of fellow teammates. Plan how to take full advantage of the team mix of styles. Realize how one is perceived by team members through peer feedback. Theory

What's My Team Member Style? and the other titles in the HRDQ Style Series™ are based on the well-known research and personality theories of psychologists Carl Jung, William Moulton Marston, and others. Most research has identified two basic dimensions of style, which we refer to as assertiveness and expressiveness. Assertiveness is the effort a person makes to influence or control the thoughts or actions of others. Expressiveness is the effort that a person makes to control his or her emotions and feelings when relating to others.

How It Works
Participants respond to 18 statements using a pressure-sensitive form. After scoring is complete, easy-to-read charts allow respondents to quickly scan the strengths and trouble spots that characterize their particular team member styles. To better understand how they are perceived, individual team members can then view Feedback Forms provided by their fellow teammates.
The Facilitator Guide features optional activities that allow participants to practice using flexibility when working with other styles. These activities utilize Feedback Forms (completed by team members prior to the training session) and StylePlay. Each Participant Guide provides a worksheet for positive personal action planning, a diagram for creating a team profile, and team action planning.

Uses for What's My Team Member Style?

What's My Team Member Style? is an excellent way to kick off any team-building training and can be used as a stand-alone tool or as part of a larger program. It is most effective for members of intact teams who are in the training session together. The assessment can also assist team members in identifying work roles that fit with their team member styles. (For more work-role practice, use Deir el-Medina and Team-Work & Team-Roles in tandem with What's My Team Member Style?
Click here to visit HRDQ
---

Teambuilders: 10 Adventures in Working Together
You are a member of a space crew who has crash-landed on the planet of Acrab. After being taken captive by aliens, the only way you can escape is to rebuild your transformational girospeckter. But can your team solve the alien's puzzles quickly enough to repair your spaceship and get away?
Challenge your participants' imaginations with TeamBuilders: 10 Adventures in Working Together, a new collection of learning events that encourage the exploration of team skills through the use of fantasy scenarios. The TeamBuilders adventures, based on Experiential Learning Methodology, guide participants through five phases of learning:
Experiencing: Formulating ideas and gathering information during the learning experience. Sharing: Articulating the learning experience to other participants. Interpreting: Understanding the skills and behaviors experienced. Generalizing: Developing testable hypotheses from the learning experience. Applying: Bridging the present and future by understanding how generalizations can be used in the workplace TeamBuilders enhances the development of five fundamental team skills:

Decision Making, Problem Solving, Teamwork, Communication,and Leadership. TeamBuilders also addresses critical secondary skills such as trust, managing diversity, assertiveness, influence, conflict management, negotiating, and more. Activities may be used independently or paired together as part of team training.
Organized in a 3-ring binder, each TeamBuilders simulation contains background information and facilitator instructions, as well as reproducible participant materials including role-specific briefing information , observer instructions, discussion questions, and a team skill handout. TeamBuilders also includes a CD-ROM containing printable files of the reproducible participant materials.
Learn more at HRDQ:Click here to visit HRDQ
---
Benchmarks Of Team Excellence Assessment :

Get the tool that measures a higher level of team functioning. Benchmarks of Team Excellence reveals important information about the experience and attitudes of those who know the team best — the team members. Benchmarks will help you measure the extent to which teams possess the 6 indicators of excellence:
· Alignment · Team Effectiveness · Empowerment · Passion · Commitment · Results
By examining scores for 6 indicators of excellence, team members can identify areas of strength and weakness, discover overall patterns of agreement, and surface differences in perceptions about how the team is functioning.
Learning Outcomes
· Measure the extent to which teams possess the 6 indicators of excellence · Compare a team's performance with other excellent and high-performing teams · Determine action steps to help teams move farther and faster along the journey toward excellence Theory;

Benchmarks of Team Excellence was developed as part of an extensive research project that investigated the relationship between various leadership behaviors (visionary leadership behaviors and good management practices) and the level of excellence in the manager's team. A thorough review and synthesis of the literature revealed 6 indicators of excellent work units: alignment, team effectiveness, empowerment, passion, commitment, and results.

The 6 indicators of excellence:
1. Alignment — a deep sense of vision or purpose that is shared among team members.
2. Team effectiveness — strong internal processes that allow coordinated efforts, such as shared values, trust, open communication, flexibility, and decision making.
3. Empowerment — feeling empowered to do what is necessary; personal and collective power.
4. Passion — high and sustained levels of energy, enthusiasm, excitement, and confidence.
5. Commitment — deep commitment to the purpose of the team and to each other.
6. Results — accomplishing outstanding results based on high standards.

How it Works;

By combining individual scores with the team's scores, participants get a portrait of their team's overall level of performance in each of the 6 excellence indicators. Interpretative information provides insight into the ranges and scores. With analysis, discussion, and action planning questions, participants then reflect on and discuss the team's functioning and how it can improve.

Uses for Benchmarks of Team Excellence
Benchmarks of Team Excellence makes an effective stand-alone training session. It is also easily incorporated into a larger training program. The assessment has been used by a wide variety of organizations for team building and team leadership training, as well as in programs to teach the concepts of excellent organizational practices, characteristics of high-performance teams, and group dynamics.
Go to HRDQ to find this benchmark tool for team building.
Click here to visit HRDQ
---
---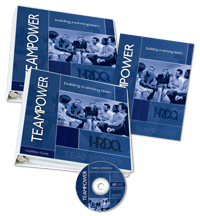 TEAMPOWER Program

Great teams don't just happen. Authentic teamwork is built upon true commitment, trust, collaboration, and competence - qualities that can only be developed with considerable effort over time. TEAMPOWER accelerates the process, helping teams transform from ordinary to extraordinary. This comprehensive and interactive program provides in-depth skill development in the vital areas needed for effective performance, including group development, team roles and responsibilities, problem solving, group decision making, communication, and managing conflict. Teams emerge from the learning experience with a fresh sense of direction and practical strategies for working together better.
TEAMPOWER Learning Outcomes: Acquire and develop group process skills Learn how to encourage innovation and implement new work strategies Understand how to communicate and collaborate Unearth and work to resolve blockages to team performance Discover how to boost team spirit, camaraderie, and commitment Develop strategies to improve productivity and work satisfaction With TEAMPOWER, you'll get all the materials you need to conduct a powerful learning event — from pre-work to participant and facilitator support materials. Every HRDQ Program offers just the right mix of interactive tools, helping participants learn compelling concepts, reflect on relevant experiences, and practice new skills. Learn about Teampower at HRDQ:
Click here to visit HRDQ
---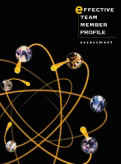 Effective Team Member Profile:
Organizations are finding that they can accomplish their goals and reach new heights of performance by harnessing the collective energy of teams. But arriving at these results is not easy, nor does it happen overnight. Creating a team-based environment takes a lot of effort and coordination. We know that a team is only as good as the sum of its parts, so what makes an effective team member?

The Effective Team Member Profile helps individuals understand what it takes to be a viable and potent member of a team — and how their behavior clearly indicates the extent to which they are (or aren't) effective.

The 36-item profile focuses on 6 "Effectiveness Factors":
1. Understanding Team Direction
2. Clarifying Team Roles
3. Showing Commitment
4. Encouraging Open Communication
5. Learning Continuously
6. Sharing Leadership Responsibilities
Learning Outcomes

· Recognize the importance of individual contributions to team success · Gain insight into one's effectiveness · Learn ways to improve performance in 6 important areas · Develop a plan to become more effective
Theory

The Effective Team Member Profile focuses on 6 key elements of effectiveness. The concepts underlying the 6 Effectiveness Factors are derived from a compilation of research including Larson and LaFasto (1989), Parker (1996), Riechmann (1998), Redding (2000), and Rees (1997) among others.

How it Works

Each individual creates two profiles. The first is based on the individual's own perceptions of his or her effectiveness. The second is created from feedback given by other team members. Finally, action planning assists team members in transferring what they have learned to their day-to-day efforts. Teams may also discuss their collective effectiveness and identify ways to improve overall team performance.
Find this team building tool at HRDQ:
Click here to visit HRDQ
---

Reproducible Program Materials:
You want soft-skills training that gets results, training that addresses your specific needs, learning you can tailor to your audience, and you need it all at an affordable price. HRDQ Digital Download products are designed to meet and exceed those needs. Our digital products are easy to purchase and deliver. We cover a full range of topics and most are fully customizable. Find them at HRDQ now:
Click here to visit HRDQ
---

The term "groupthink" has become a standard way of describing a special phenomenon that can and does occur in groups. If a group experiences groupthink, it has developed a set of shared perspectives that may be unrealistic but are strongly supported by the members of the group. The GroupThink Index helps teams gauge the effectiveness of their decision-making progress - and catch hidden tendencies toward hasty, lazy, or self-satisfied group thinking.

Overview

The phenomenon of groupthink seems to develop as a group becomes more cohesive and less critical of its own decisions. For example, a group may decide on a plan of action that a few of the members propose and support. Without a debate or critical thinking, the rest of the group goes along with this plan because its concern for unanimity and solidarity outweighs its desire to discuss other, and perhaps more valid, points of view.
The danger to any group is that the quality of a decision may be weak, yet the group strongly believes in the correctness of its position and ignores conflicting views. The end result may be a decision of such poor quality that it fails to achieve its intended purpose or creates other more serious problems.
Development

The author facilitated a team building session with a senior management team. It was the afternoon of the second day and the learning experience had gone exceptionally well. People who had barely spoken to one another before the program now shared their hopes and dreams with the entire team. They had clearly reached a new level of team development, a stage of good feelings, esprit de corps, and closeness.

Then the group undertook a standard consensus exercise. It was a survival problem in which a limited number of available items must be used creatively if the group is to survive. The group members approached their work with excitement and determination. They were now a team and nothing could stop them. Unfortunately, they were so eager to agree with one another that they accepted weak rationales for items without thinking critically of challenging the assumptions on which they were based.

Of course, the results were disastrous, and they were disappointed with themselves and with their performance. What could have gone wrong? The author sensed it was the new level of cohesiveness that got in their way. They had worked so hard during the previous day-and-a-half that they did not want to disagree over what seemed to be a relatively unimportant project. They went along with one another to preserve the group's unity, and the results were far less than they were capable of achieving.

If only there was some way to help them understand the positive and negative effects of cohesiveness. Other than explaining the concept of groupthink, there was no convincing tool. After the session the author resolved to create an instrument that could help groups break out of the pleasant state of good feelings they often achieve. It was important to move them to a state of interdependence where challenges to group members could have the effect of stimulating greater group effort, not tearing down what they had already built.
How And When To Administer GroupThink Index
The GTI is used most effectively in the context of a team development intervention. It is appropriate for senior management teams, project teams, cross-functional teams, self-managing teams, and a variety of other teams. Because the concept of groupthink is a more sophisticated notion of what can go wrong in group decision making, it is not useful for all teams. Teams benefiting from this instrument will have a higher level of education, experience, and skill, in addition to being more mature in their interpersonal relationships. The facilitator will need to make a careful assessment of the team and its members before introducing the GroupThink Index.
Find the Group Think Index at HRDQ:
Click here to visit HRDQ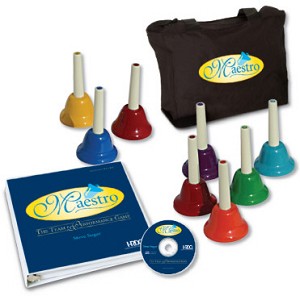 ---
Maestro a team building training game for employee and management development training. The experiential learning activity is an engaging and interactive way to improve teamwork, team performance, team leadership, and problem solving skills.
An integral part of the modern working world, teams are a critical component to an organization's success.
You can infuse fun into your next training session while helping teams develop vital group process skills such as leadership, roles and responsibilities, creative problem-solving, planning, and communication, with Maestro: The Team Performance Game. Hands-on and engaging, this interactive game leads to a rich and meaningful dialogue that prepares teams to perform more effectively in the workplace. It is the perfect kick-off for your team building initiative, team energizer, or standalone learning event.
Find this team building game at HRDQ:
---
Find more team building ideas here
---
Jungle Escape Team Building Game
---
Mars Surface Rover Team Building Game
---
---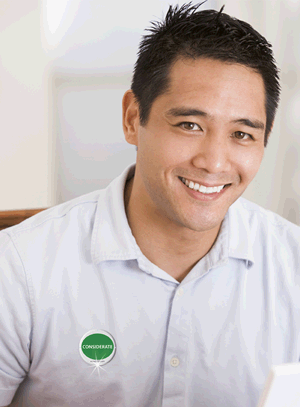 HRDQ Style Blinkies

Light up the room with personality !

Style blinky? What's a blinky? They're the latest addition to the HRDQ Style Series, that's what they are. Cool, light-up buttons you can give to your audience as a learning takeaway. Everyone will enjoy will enjoy wearing their personality "on their sleeve" – or any other part of their shirt. Blinkies are magnetic, so they're easy to display in workspaces and they won't harm clothing.

These buttons are fun, flashy, and your participants will want them!

But in all seriousness, Style blinkies aren't just about bling. They're an excellent way for participants to build rapport with others, build style awareness, engage in Style "talk," and hopefully serve as a friendly reminder that flexing one's style is the key to effectively interacting with others.
Have fun with Blinkies go to HRDQ: Click here to visit HRDQ
---
---
---
---
---