Reproducible Program Library
---
---

This great for your team building training. Tyr it , you like it !
The Reproducible Program Library is classroom training that's downloadable, customizable, reproducible, and best of all…affordable.
There's a reason why the Reproducible Program Library is an HRDQ client favorite. Not only does it provide unlimited opportunities to deliver a customized training experience at a reasonable price, the more you use it, the more cost effective it becomes.
The Reproducible Program Library offers 80 half-day and multi-day programs on a wide range of soft-skills topics, from communication and team building, to leadership, performance management, and more. Each program comes complete with open-source downloadable materials, including a comprehensive Facilitator Guide, Participant Guide, and PowerPoint® presentation. Each program is ready to deliver. And all files are also unlocked and ready for you to edit in any way you choose.
Click here to visit HRDQ
Purchase the entire collection for one amazing price and you'll have an incredible library of content to which you can turn for every training need. Or choose several programs on a particular topic or simply buy single titles one at a time. The choice is yours, the more you buy, the more you save.

You own the programs you purchase. Download the titles instantly. Insert your company logo and tailor the content to suit your training objectives. Use industry or company-specific examples to add relevance. Print the materials on demand. Now you're ready to deliver a customized solution.

---
Features and Benefits
• Large library of 80 different training programs • Preview any title before making a decision • Instant access so you can purchase and download titles today • Add your company logo • Content can be customized and tailored to suit your specific learning goals • Include industry examples to add relevance • Print the participant materials on demand • Update and change your programs as needed • Use the programs over and over again • No annual or license fees

---
Did you know that you can preview any Reproducible Program Library title by adding its related "free preview" product to your shopping cart? You can find free previews under the "Related Products" heading at the bottom of each title's web page. Just add it to your cart and you'll receive a download link to a limited preview : Go to HRDQ today for free preview:
---
---
---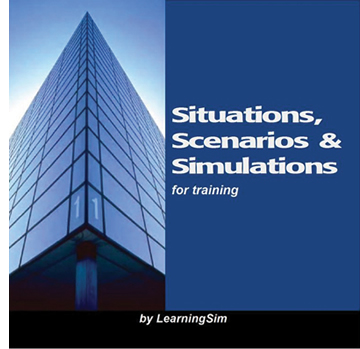 NEW! Reproducible Simulations Library
Get instant access to an incredible library of simulations that you can easily add to your training. The Reproducible Simulations Library is a robust collection of 24 downloadable simulations on compelling soft-skills topics such as decision making, ethics, customer service, giving feedback, negotiation, sales skills, delegation, leadership, and more.

24 Customizable Simulations. Unlimited Use. One price.

Fully customizable and reproducible, each simulation is a stand-alone activity designed to help learners practice real-world skills. Use them "as is," tweak the content to fit your training needs, or add your company's logo. The Microsoft® Word® format makes tailoring quick and simple. Print on demand and use the simulations over and over again. You can even create an e-learning experience for self-study learning!

Simulations for today's training needs, Conflict Management – Dealing with Disrespect, Customer Service – Fixing a Co-Worker's Problem, Decision Making – Equipment Delays, Decision Making – Breakfast Innovation Delegation – Choosing Tasks, Choosing ,Delegates, Delegation – Following Up on a Delegated Task, Ethics – Hiring with a Conflict of Interest, Ethics – Handling the Pressure for Results,Giving Feedback – Dealing with Distracting Behavior, Giving Feedback – Mostly Positive, with One Correction, Giving Feedback – The Reluctant Team Member, Influence – Winning a Seat at the Table, Leadership – Inspiring Action in Tough Times, Leadership– Keeping Your Best Employees, Negotiation – Working out a Major Service Contract, Performance Management – Corrective Action, Performance Management – Giving a "Meets Expectations" Rating, Presentation Skills, Retail Sales Skills Simulation Model, Sales Skills – B2B Services, Sales Skills – Vacation Travel, Setting Expectations – When Restructuring Changes the Job, Service Skills Simulation Model,and Technical/Job Skills Simulation Model.

Here's what you receive for one low price:
Instant access to the full library of 24 downloadable training simulations Reproducible and customizable materials for both the facilitator and participant Introductory Guide to using simulations as an effective learning strategy Trainer's Guide for incorporating simulations into existing training programs, including e-learning
Preview the Reproducible Simulations Library at HRDQ,click here:

---
The ultimate training toolbox: Pfeiffer Library CD-Rom , Version 4.0
---
Make your case for your training: Kirkpatrick Evaluation Toolkit
---
Pump up your coaching training
---
Accelerate the acceptance of organizational change
---