Pfeiffer Library
---
---
Pfeiffer Library CD-ROM VERSION 4.0

The Ultimate Training Resource


Pfeiffer Library CD-ROM VERSION 4.0

The Ultimate Training Resource

The Pfeiffer Library Version 4.0 is a CD-based compilation of more than 2,500 tools and resources from the complete collection of the well-known Pfeiffer Annuals and Handbooks. It's packed with 40 years worth of reproducible and ready-to-use classroom exercises, assessments, and theoretical backgrounds from many of the most respected authors in the training industry – all in one compact and convenient resource.

Update Version 4.0
With the new version 4.0, you also have access to every major learning theory, as well as hundreds of training games, ice breakers, openers, closers, energizers, and other quick, fun classroom activities.
Use the library to teach a multitude of workplace-training topics to learners at any level in an organization, from leadership and communication skills to negotiating and problem solving. Click here to download three free samples from the Pfeiffer Library 4.0.

Click here to download a flash demo of the Pfeiffer Library 4.0.
Here's a taste of what's included:

• Assessments • Experiential exercises • Handouts • Essays • Case studies • Ice breakers • Games
The Pfeiffer Library Version 4.0 makes your job as a trainer simple. No more fumbling over multiple resources or researching for hours. Everything in the library is easy to find. Everything is yours to keep, reproduce, customize, distribute, and put to work. No strings attached.

The list of people who contributed the classroom activities, created the assessments, and wrote essays for the Pfeiffer Library 4.0 reads like an honor roll covering four decades of corporate-training history, including J. William Pfeiffer, John E. Jones, Warren Bennis, Sivasailam "Thiagi" Thiagarajan, James M. Kouzes, and Marshall Sashkin, to name just a few.
Uses for the Pfeiffer Library 4.0
The Pfeiffer Library 4.0 is designed to support a wide array of training challenges. It contains more than 2,500 tools, including hundreds of icebreakers, instruments, and experiential learning activities to address a wide range of training topics, including:

• Change Management • Communication • Conflict Management • Diversity • Leadership • Management • Negotiating • Organization Development • Problem Solving • Team Building

How it Works The Pfeiffer Library 4.0 is intended as a working resource – a trainer's toolbox. Anything in it may be reproduced, adapted, customized, and distributed as you see fit for your training purposes. Just pick the right tool for the job at hand, and put it to work.

Navigating the contents is simple. You can search by topic, type of tool, author, time required, and keyword.
Find this tool at HRDQ.
---
---
---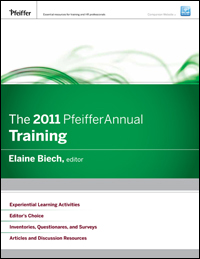 2011 Peiffer Annuals
Available December 2010 Click "Add to Cart" below to join our waiting list. We'll let you know as soon as this product is available. No purchase required.

2011 Pfeiffer Annuals
Elaine Biech (Editor) Published by Pfeiffer
2011 Pfeiffer Annual: Training
This volume of the popular Pfeiffer Annuals series offers unique activities, articles, and an instrument from experts and practitioners in the field of managerial training. It addresses the design, delivery, and evaluation of interventions that can be used to improve the performance of managers across all sorts of disciplines.

2011 Pfeiffer Annual: Consulting
This handy resource is a ready-made toolkit of ideas, methods, techniques, and models that assist and support your work as an internal or external organizational consultant. The Annual addresses the broad range of topics that are of most interest to professionals in the field.

Purchase of an Annual includes access to an associated website which features customizable versions of the reproducible items associated with each activity included in the volume.

---
Remarkable Leadership: A Learning Series for Building Better Leaders
Published by Pfeiffer
We are all given a unique set of talents when we are born. While these abilities help us to evolve as leaders, others need to be nurtured and developed. Truly remarkable leaders become remarkable through a continuous and upward climb of learning.
Based on the acclaimed book, Remarkable Leadership: Unleashing Your Leadership Potential One Skill at a Time, author Kevin Eikenberry sets out to challenge participants to be more intentional about what, when, and how they learn. Remarkable Leadership: A Learning Series offers a flexible and practical learning experiences for leaders at all levels.
Presented in one-hour learning chunks, the 12-module program allows organizations to target these specific skills: Championing Change, Communicating Powerfully, Building Relationships, Developing Others, Focusing on Customers, Influencing with Impact, Thinking and Acting Innovatively, Valuing Collaboration and Teamwork, Solving Problems and Making Decisions, Taking Responsibility and Accountability, Managing Projects and Processes Successfully,and Setting Goals and Supporting Goal Setting.
About the Author

Kevin Eikenberry is the chief potential officer of The Eikenberry Group, a learning and consulting company that provides a wide range of services, including training delivery and design, facilitation, leadership coaching, organizational consulting, and speaking services. His expertise includes leadership, teams, and facilitation. Kevin has worked with many major organizations such as Chevron, John Deere, Southwest Airlines, and the U.S. Marine Corps. In addition, he is the author of many books, including Vantagepoints on Learning and Life and #LeadershipTweet: 140 Bite-Sized Ideas to Help You Become the Leader You Were Born to.
Go to HRDQ for this tool
Click here to visit HRDQ

---
---
---
---