Team Development
---
Teams go through different stages as they develop. Team leaders need to understand how teams develop. The teams go through four different cycles: Forming, Storming, Norming, and Performing
---
---
Forming: This is the first step to teambuilding. The leader selects the team members. The purposed is defined and the goals are set. The team leader takes the role of the coach. The team leader makes assignments. This is great time to introduce some icebreakers techniques. The team leader can add some activities or games to help the team to get familiar with each other.
---
Storming: It is normal for teams to struggle and have conflict. This is how a team grows. The team leader needs to encourage open, and honest communication. Cliques and small groups will form. The team leader needs to look for small success, and build a win- win attitude. The storming phase may feel like chaos, but it does help the team grow to the next stage, norming.
---
Norming: At this stage, the team starts to develop the cohesiveness and establish roles. The team leader needs to keep the team on task. The team leader my challenge the team to meet their goals. Coaching skills are important as the team moves to last phase, performing.
---
Performing: The effective team reaches the last phase by reaching and maintaining their performance. The team leader takes corrective action as needed. The team leader keeps the team focused on goals, and moves the team to self-management process. When the teams reach their maxim potential they become self actualized as defined by Maslow.
---
Each team has it own personality. Team leaders need to be aware of the different phases. I once had a team they never got out of the storming phases. This team was dysfunctional. I learned a lot about teambuilding with this team. Team leaders need to be strong and effective coaches through out the process.
---
Group Development Assessment
Two major dimensions of behavior influence any situation in which people must work together to accomplish a project: task behaviors and process (or interpersonal) behaviors. These two dimensions can develop at different rates as the group matures. In order to achieve a high level of cooperation and effective functioning, group members must be able to engage simultaneously in consistently high levels of both types of behaviors.
The Group Development Assessment (GDA) gives groups the opportunity to evaluate how they are currently functioning in both of these dimensions. By combining each member's inventory scores into a group profile, members get a clear, comprehensive picture of their development — and of what it will take to become a team. Learning Outcomes
Evaluate how the group is currently functioning Learn about the phases of task and process behaviors Discover the 4 group developmental stages and the characteristics of groups in off-diagonal stages Recognize what it takes to reach synergy Create and discuss a group profile to get a perspective on development Identify areas in need of improvement and develop a group action plan Theory
The assessment is based on a theory originally published by John E. Jones PhD. The model of group development suggests that groups tend to go through predictable stages of growth as a result of the interaction of the two behavioral dimensions: task behaviors and process behaviors.
How it Works
Individuals respond to 40 statements relating to the conditions within the group. Results are transferred to the group profile in order to create an overall picture of the perception of group development. Through discussion group members determine what is needed to achieve improvement and develop an action plan.
Uses for the Group Development Assessment
The GDA is designed for application with groups that have specific tasks to perform. It is intended for use as a diagnostic system to help managers, leaders, consultants, and group facilitators determine how to improve group functioning.
The assessment has a variety of uses including:
A tool for assessing how group members perceive the functioning of the group An action planning system to improve group productivity A learning exercise for group leaders A guide for appropriate group leadership behavior A diagnostic system for use in team building What to Order/Product Contents
Order one Facilitator Guide per facilitator and one Participant Guide per participant. Facilitator Guide includes:
Background information Theoretical model (including descriptions of phases and stages) Group Leadership Demands in the 4 Stages and Off-Diagonal Situations Assessment scales How to Use the Group Development Assessment Sample 1 ½ - 2-hour team-building intervention Tips for creating a 1 ½ -2-hour management/leadership-development module Technical information including reliability, validity and normative data Overhead transparency masters Participant Guide includes:
40-item inventory Pressure-sensitive response form Theoretical model (including descriptions of phases and stages) Charts for recording scores Discussion questions Action planning
visit HRDQ and then go to teams for these tools:
---
---
Team Development Activities For Trainers
Searching for a fresh collection of team development activities? Look no further! Introducing Team Development Activities for Trainers, a collection of 59 exercises that address the skills most critical to team development, including communication, planning, problem solving, and more.
The activities provide the vehicles for team members to enjoy a common experience; explore, discuss, and resolve issues that have arisen; and then apply what they have learned to their work. Additional features provide trainers with resources to make team development easier and more effective, including a program design framework, checklists for use with activities, and an index of games organized by skill (objective). Uses for Team Development Activities
The activities in this collection have been used in many different industries and by those in various job functions, including the military, financial services, higher education, secondary schools, nurses, teachers, IT specialists, pharmaceutical managers and others. Team Development Activities for Trainers addresses a full range of skill areas including: Assertiveness Communication Creativity Decision making Delegation Feedback Influencing Listening Planning Problem Solving Time Management Team Leadership Product Contents
Step-by-step facilitator guidelines Learning objectives Design Framework for Team Development Programs Checklists for Use in Facilitating Team Development Index of Activities by Objectives Reproducible participant materials Activities include:
· Alternative Routes · The Amazing Electric Team Leader · Are We a Team? · The Bayeux Tapestry · Build Us a Crane · Candle Snuffing · Choose Your Own Sport · Classic Cars Auction · Cock of the Walk · Communications Audit · CompuSpeak · Cooks' Dilemma · Creative Weighing Machines · Customer Clusters · Delegation Is Good for You · Describe Your Work Team · Disappearing Golf Balls · Draw Us a Map · The Four Seasons · Go-Carting · Himalayan Saunter · How Do You Manage Your Meetings? · How Healthy is the Patient? · Leadership Styles and Values · Like the Hat? · Managing Boundaries · Motive Power at Work · Music Maestro · News Clues · Noah's Ark · On Average… · Open Access · Pegging away · Penny Pitcher · Please Join Our Team · Polybricks · Queen's Time · Sell Us a Sport · Sell Your Team · So What Are You Going to Do About It? · Star Performer · Straight from the Horse's Mouth · SuperAnt · Symbols of Your Work Team · Team Climate Survey · Team Development Checkers · Team Development Goals · Team Effectiveness Review · Team Leadership Styles · They're Dancing to Our Tune · Tic-Tac-Toe · Tykes Verses Romans · Viking Chess · Want a Job? · What Do You Advise? · Where Are You Now? · Who Are Our Competitors .

HRDQ can help you with these team building tools: Click below, now
---
Effective Team building | Teamwork| Learning| Family Teambuilding | Icebreakers|
---
Take your team international-teambuilding event
---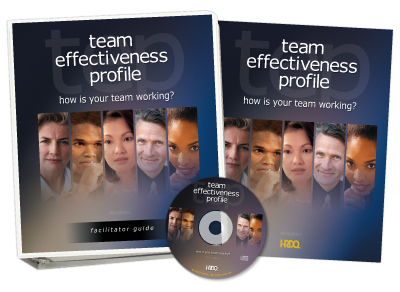 What's lurking beneath the surface of your teams?

"Great teams do not hold back with one another. They are unafraid to air their dirty laundry. They admit their mistakes, their weaknesses, and their concerns without fear of reprisal." ~ Patrick Lencioni, The Five Dysfunctions of a Team: A Leadership Fable
We all know successful teams can accomplish incredible results. But all teams are human, and more often than not, unresolved issues lurk beneath the surface, draining a team's energy and undermining its efforts. What's needed is a proven method to accurately diagnose and remedy the obstacles that block success.
Here's the solution. The Team Effectiveness Profile (TEP) is an assessment tool that that's produced results for thousands of teams since it was first introduced over 30 years ago.

What does the TEP achieve?
Assesses the general health of a team. Identifies the common blockages to team effectiveness. Shows how to maximize the team's productive efforts. Offers strategies to reduce or eliminate blockages to team performance. Gauges team performance improvement. How does the TEP work?

The basis of the TEP is an accurate, 50-item assessment that measures team member perceptions in five key areas:
Mission, Vision, and Goals, Team Roles, Operating Processes, Interpersonal Relationships,and Inter-team Relationships. The results yield an Overall Team Effectiveness score as well as sub scores for each of the five dimensions. Following the inventory, the TEP provides extensive interpretive information and an optional 2-hour instructor-led workshop.

Applications for the TEP:
Profile and benchmark the effectiveness of a newly-formed team.Educate new teams about issues that could block its success. Surface and remove blockages from struggling teams. Provide executive teams with insights and strategies to improve performance. Track a team's progress over time.
What's included with the TEP?

The TEP offers comprehensive materials for both the facilitator and the learner. Everything you need to administer the assessment, interpret the results, and lead a 2-hour workshop is contained within the Facilitator Guide, from background information to step-by-step guidelines, a professional PowerPoint presentation, and even a reproducible article. A takeaway Participant Guide serves as a complete resource for learners, including the 50-item assessment, reflection questions, discussion starters, and action planning.

Next Steps:
Learn more about the Team Effectiveness Profile. Register for the free webcast, "How is Your Team Working?" Order the Team Effectiveness Profile at HRDQ,

---
Do you want a great team… the collaboration… the productivity… and the positive work environment?

Do you want to build a great team… but don't actually know much about it? If so, then you've found the right site!

The Key For An Amazing Team
That Will Outperform In Any Environment
Teams are everywhere.

Humans have an innate need to work together.

Its part of our make up, we need to be together and working together for a common goal. It makes us feel significant with a purpose.
Having an excellent team is vitally important to accomplishing the vision as well. It doesn't matter what we're a part of (corporations, small businesses, churches, etc…), we can't accomplish our visions alone.

We need good teams in order to do what's in our hearts.

That way we get the strengths of different types of people working to a common goal… Which fills out our ability to accomplish the vision.

Building A Good Team Is Imperative To Accomplishing The Goals, Vision, And Mission.
It doesn't really matter where you go, you're going to have a team.
Even if you just consider them as "employees", they're still part of your team.

And how you view them will affect how well they work together. If you don't view them very highly, then they won't buy into the vision, because to them you're just a boss and nothing more…

Because you see them as employees and nothing more. If you're team doesn't buy into your vision and have ownership in it, then you can say goodbye to truly accomplishing much.

It so important to have a functioning team, and this is one of the biggest mistakes people make: How the leader views their team mates.

Once a team feels connected to the vision and valued they will out perform your wildest dreams. The trick is putting a team together well.
A lot of organizations fail because the leader or manager didn't know how to build a good team – even though they thought they did.

And thus their dreams are left unfulfilled. At the very best they may still be around, but their productivity will be low and they won't be accomplishing much.

If you want your business to outperform the competition… Or if you have a vision for something new…

You need to know how to build a great team.

But most people don't, and make some very common and easily avoidable mistakes

---
---

Pulling Together - $ 15.95
From: Simple Truths
---