Team Building Activity Collections
---

---
Team Development Activities for Trainers is a collection of 59 exercises that address the skills most critical to team development, including communication, planning, problem solving, and more.
---
The activities provide the vehicles for team members to enjoy a common experience; explore, discuss, and resolve issues that have arisen; and then apply what they have learned to their work. Additional features provide trainers with resources to make team development easier and more effective, including a program design framework, checklists for use with activities, and an index of games organized by skill (objective).
Uses for Team Development Activities;

The activities in this collection have been used in many different industries and by those in various job functions, including the military, financial services, higher education, secondary schools, nurses, teachers, IT specialists, pharmaceutical managers and others. Team Development Activities for Trainers addresses a full range of skill areas including:
Assertiveness Communication Creativity Decision making Delegation Feedback Influencing Listening Planning Problem Solving Time Management Team Leadership Product Contents
Step-by-step facilitator guidelines Learning objectives Design Framework for Team Development Programs Checklists for Use in Facilitating Team Development Index of Activities by Objectives Reproducible participant materials Activities include:

· Alternative Routes · The Amazing Electric Team Leader · Are We a Team? · The Bayeux Tapestry · Build Us a Crane · Candle Snuffing · Choose Your Own Sport · Classic Cars Auction · Cock of the Walk · Communications Audit · CompuSpeak · Cooks' Dilemma · Creative Weighing Machines · Customer Clusters · Delegation Is Good for You · Describe Your Work Team · Disappearing Golf Balls · Draw Us a Map · The Four Seasons · Go-Carting · Himalayan Saunter · How Do You Manage Your Meetings? · How Healthy is the Patient? · Leadership Styles and Values · Like the Hat? · Managing Boundaries · Motive Power at Work · Music Maestro · News Clues · Noah's Ark · On Average… · Open Access · Pegging away · Penny Pitcher · Please Join Our Team · Polybricks · Queen's Time · Sell Us a Sport · Sell Your Team · So What Are You Going to Do About It? · Star Performer · Straight from the Horse's Mouth · SuperAnt · Symbols of Your Work Team · Team Climate Survey · Team Development Checkers · Team Development Goals · Team Effectiveness Review · Team Leadership Styles · They're Dancing to Our Tune · Tic-Tac-Toe · Tykes Verses Romans · Viking Chess · Want a Job? · What Do You Advise? · Where Are You Now? · Who Are Our Competitors? Click here to visit HRDQ
---

Pump Them Up! Activities

Your team is floundering, morale is low - you're not sure what the problem is, but you know you need to do something fast. How do you pull together a team-building workshop that is guaranteed to work?
You need Pump Them Up! - a collection of 35 reproducible team-building workshops conveniently packaged in a 3-ring binder. In as little as two hours you can provide teams with on-target, hands-on training that will re-energize, re-focus, and re-commit team members.

Begin with one of the four reproducible assessments - great for pinpointing your teams' developmental needs. Then select from a collection of 35 fresh, innovative workshop activities that get participants thinking and doing. The binder also includes 7 additional inventories to enhance the workshop activities. All the materials are fully reproducible!

Learn more about this tool at HRDQ.Click here to visit HRDQ
Workshop topics include:
Goals and Procedures, Communication, Trust and Conflict Resolution, Problem Solving and Decision Making, Leadership, Growth and Development, Group Dynamics, Detailed information for each workshop includes objective, background information, materials list, reproducible participant hand-outs, preparation guidelines, and step-by-step procedures for conducting the workshop.
Pump Them Up! Includes:

35 reproducible workshop activities. 4 reproducible assessments for diagnosing team strengths and weaknesses. 7 additional reproducible assessments for enhancing workshop activities.
Pump Them Up! provides 70 hours of team training! Click here to visit HRDQ
---
---
---

TeamBook is a collection of ideas and exercises for use by trainers or program designers who are engaged in the effort of helping work groups to develop into teams. Keeping the conditions, goals, and guidelines of TeamBook in mind will assist users to develop from work groups into more effective teams.
The materials are intended as a catalyst for the orderly improvement of group functioning toward the attainment of effective human relations and consistently high levels of task functioning. TeamBook consists of 27 activities to improve group functions and achieve effective human relations. The introduction provides the fundamental principles of team building, team building goals and participant guidelines.
The Book Contains 5 Sections:
Section 1: Starters (Ice Breakers) Contains 3 exercises such as "Team Starter" for teams whose members each manage the work of others who are external to the team.
Section 2: Energizers (Energize Your Group) Consists of 4 exercises such as "Nerftime", a high-involvement activity using Nerf® balls to demonstrate the unnecessary restrictions we often put on ourselves.
Section 3: Interpersonal Feedback (Interpersonal Perceptions) Consists of 4 exercises such as "Cards Lineup" which shows how to give and receive precise appreciation's of one another in a dramatic and forceful manner.
Section 4: Diagnostics (Group Effectiveness) Consists of 12 exercises such as "Test #2" recognizing common memory through a quick, problem solving exercise.
Section 5: Planning (Concrete Action Plans) Consists of 4 exercises such as "Strategic Action Planning", a step-by-step plan to over come barriers to realizing team and organizational goals.
Click here to visit HRDQ
---

Teambuilders: 10 Adventures in Working Together

You are a member of a space crew who has crash-landed on the planet of Acrab. After being taken captive by aliens, the only way you can escape is to rebuild your transformational girospeckter. But can your team solve the alien's puzzles quickly enough to repair your spaceship and get away?
Challenge your participants' imaginations with TeamBuilders: 10 Adventures in Working Together, a new collection of learning events that encourage the exploration of team skills through the use of fantasy scenarios. The TeamBuilders adventures, based on Experiential Learning Methodology, guide participants through five phases of learning:
Experiencing: Formulating ideas and gathering information during the learning experience. Sharing: Articulating the learning experience to other participants. Interpreting: Understanding the skills and behaviors experienced. Generalizing: Developing testable hypotheses from the learning experience. Applying: Bridging the present and future by understanding how generalizations can be used in the workplace TeamBuilders enhances the development of five fundamental team skills:

Decision Making, Problem Solving, Teamwork , Communication , and Leadership. TeamBuilders also addresses critical secondary skills such as trust, managing diversity, assertiveness, influence, conflict management, negotiating, and more. Activities may be used independently or paired together as part of team training.

Organized in a 3-ring binder, each TeamBuilders simulation contains background information and facilitator instructions, as well as reproducible participant materials including role-specific briefing information , observer instructions, discussion questions, and a team skill handout. TeamBuilders also includes a CD-ROM containing printable files of the reproducible participant materials.
Click here to visit HRDQ
---
---

22 Training Events For Developing Team Leaders

For many team leaders, leadership can seem like an intangible, unattainable skill — one that's best left to those at the top of the organization. But in reality, leadership takes place at many different levels, from strategic directors to team and project leaders. And the common denominator is a set of key recognizable skills that any leader can learn, practice, and develop. 22 Training Events for Developing Team Leaders is a series of exercises, simulations, games, and case studies that addresses the skills at the heart of improving the way team leaders guide their teams.

Applications:
22 Training Events for Developing Team Leaders is flexible and may be adapted to meet your participants' specific training needs. Build the activities into any team leadership program, tie together several events for a mini training session, or use selected activities as stand-alone exercises.

This thought-provoking collection provides skill development in such critical areas as:
· Initiating · Controlling · Evaluating · Delegating · Decision-Making · Communicating · Motivating
Product Contents:

· Activity index · Activity summaries · Time checklist (activities listed by time requirements) · Purpose statements (learning objectives) · Step-by-step facilitator guidelines · Reproducible participant materials · Task sheets (Debriefing questions) · Appendix for each activity (tips on when to use it and how to help ensure its success, as well as possible pitfalls)
You can find this resource at HRDQ now.Click here to visit HRDQ
---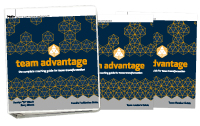 The Team Advantage

Teams run organizations, yet the dynamic movement of most organizations can cause teams to lose their momentum. Team Advantage is an innovative program that goes beyond your typical team-building exercises to harness a team's focus and strengths on something bigger: to imagine an amazing stretch goal and then put in place an actionable plan to achieve it. What makes this team training solution different from others is that it offers what most are missing – coaching and time!

Team Advantage is presented as an organizational "game" oriented around an actual stretch goal that is meaningful to the organization's success. Each team is assigned a coach who oversees and facilitates the experience from start to finish, working with individual team members and leaders through four phases of team development over the course of 16 weeks:

1. Pre-game preparation:
Coaching the team leader and interviewing each team member to set the stage for the program.

2. Kick-off workshop: The team creates a game plan oriented around an extraordinary goal.

3. Weekly coaching sessions: Team members provide progress updates and learn to support teammates.
4. Review of team accomplishments and its transformation: The team takes time to assimilate learning and celebrate their wins and their new level of communication.

In addition to focusing on the achievement of the goal, the program leaves teams with a replicable process they can implement time and time again to achieve success.
Product Type
Program
Objective
For teams to learn a process for achieving goals.
Time Required
16 weeks for all four phases.
Authors:

DJ Mitsch
DJ Mitch is a Master Certified Coach and former president of the International Coach's Federation (ICF). She is the founder of The Pyramid Resource Group, a corporate coaching company based in Cary, North Carolina.
Barry Mitsch
Barry Mitsch is co-founder and Vice President of The Pyramid Resource Group. He has been involved in training and development activities for more than 20 years. His background includes work in both technical and nontechnical training and he has designed and delivered classroom, self-instruc¬tional, and distance learning programs. Barry is the author of Mind over Mutter: 199 Practical Tips for Giving Great Presentations and serves as an adjunct instructor in the evening MBA program at North Carolina State University.

Testimonials:
"Team Advantage is for any leader with a team and a goal. It's a proven process, with challenges and rewards, that will drive your team past typical corporate objectives to new levels of engagement and commitment. You can transform your team—and your Team Advantage."
—Ken Blanchard, coauthor of The One Minute Manager® and Leading at a Higher Level
Learn more at HRDQ:
---
---
---
---