Supervision
---

---
Present new and aspiring supervisors with an accurate and realistic picture of what it really means to be a supervisor. Stepping Up provides you with everything you need to implement an effective one-day workshop. Supervisors learn about the expectations, skills and knowledge required of them, and how to successfully manage others.
---
Stepping Up is a management development training program for new supervisors, managers, and leaders. The program offers a basic understanding of the roles, responsibilities, and expectations required to be successful, and it guides supervisors in developing an actionable plan for personal growth.

Statistics show that only 60% of new supervisors are successful. So what happens to the other 40%? They're either fired for lack of performance or step down from the position voluntarily. Problem is, not many new or aspiring supervisors have any idea of what is expected of them – or what it takes to lead others. So how can you as a trainer improve the odds of success?

Stepping Up provides new supervisors with an accurate picture of what it truly means to be a supervisor. This one-day workshop takes a different angle than most supervisory training programs. Rather than focusing on typical day-to-day tasks such as planning, budgeting, and problem solving, Stepping Up targets people skills as the foundation for success.


Learning Outcomes:

Understand the scope of the supervisory role. Develop the skills that are required to be a supervisor. Learn what principles are needed to build credibility. Discover the real-life concerns, challenges, and pitfalls of being a supervisor. Create an action-oriented decision-making performance model. Theory and Development:

Stepping Up is based on three decades of professional contacts with supervisors. Over the years, the authors interviewed and job-shadowed countless numbers of supervisors in their own work environments in all industry sectors. The interviews had a common message that led the authors to two important conclusions. First, much of the success of organizations can be directly linked to the efforts of first-line supervisors. And second, organizational success is dependent upon supervisors possessing the right skill-set, mind-set, and commitment to excellence. Stepping Up was designed with this research and conclusions in mind.

Uses for the Program:

Stepping Up is an excellent starting point for supervisors who are new to their role. It has many applications for supervisory training, including:

A standalone training program for new and inexperienced supervisors. Part of a larger supervisory-skills training initiative.Preparation for aspiring supervisors or those considering a supervisory role. How It Works:
Stepping Up is intended for a classroom training environment. It includes all of the materials facilitators need to deliver a full-day program.

The comprehensive Facilitator Guide is fully scripted and comes complete with PowerPoint slides, supporting materials, and a CD-ROM. While Stepping Up is considered ready-to-use, there are ample opportunities for trainers to customize the program to meet specific objectives.

Supervisors will appreciate the accompanying Participant Workbook. It is an excellent takeaway that includes a skills-based self assessment, development worksheets and strategies, and a customizable action plan for personal growth.
Click here to visit HRDQ
---

Help reduce turnover and foster better boss-employee relationships with the Best Boss Inventory. The instrument provides a model for emulating the traits of "best" bosses, giving individuals insights into their behaviors in leading, motivating, and inspiring their employees.

Why help a boss become a "best boss?" One study found that 50 percent of work-life satisfaction is determined by the relationship an employee has with his or her immediate boss. And, a 1999 Gallup poll determined that employees leave bosses, not organizations.

Help reduce turnover and foster better boss-employee relationships with the Best Boss Inventory. The instrument provides a model for emulating the traits of "best" bosses, giving individuals insights into their behaviors in leading, motivating, and inspiring their employees. The Best Boss Inventory assesses 6 key skills, including Connecting People with Purpose, Encouraging Ownership, Focusing Efforts on Smart Work, Building Competence, Recognizing Achievements, and Respecting the Individual.
Learning Outcomes:
Learn about the behaviors that are linked to "best" bosses. Determine strengths and areas of improvement in 6 best boss categories. Expand and enhance best boss skills.
Theory:

The underlying premise for the Best Boss Inventory is that really good bosses are the ones who understand what people want from work and provide the environment for success. The Best Boss Model consists of 6 categories, or Best Boss Indicators:

Connecting People with Purpose
Encouraging Ownership
Focusing Efforts on Smart Work
Building Competence
Recognizing Achievements
Respecting the Individual
The extent to which bosses demonstrate these 6 skills is the extent to which they are effective at leading people, offering employees the opportunity to pursue both professional and personal goals, and creating an enjoyable workplace that is rich in trust, respect, and fairness.

How it Works

The Best Boss Inventory is a self-administered learning instrument that yields an Overall Boss Score, as well as separate scores for each of the 6 Best Boss Indicators. The Best Boss Inventory includes a feedback component that is particularly helpful, as it allows bosses to compare and clarify perceptions, and develop a clearer picture of how their actions and behaviors are perceived by others.
Click here to visit HRDQ
---
It's Okay to Be the Boss: The Management Workshop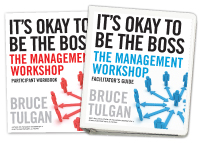 Here is a great one-day workshop that will change the way anyone in management thinks about their role. It's Okay to Be the Boss offers an 8-step "back to basics" boot camp that will engage managers, supervisors, and leaders to take charge, build healthy relationships with employees, increase productivity, and reduce turnover.
Too many of today's supervisors, managers, and leaders are failing their staff and their organizations by "undermanaging." Falling victim to the empowerment craze of the last decade, they seem to have forgotten what it means to be the boss and are chronically undermanaging their employees. They do not take charge on the day-to-day business basics. They don't spell out expectations. They don't keep track of performance measurements. They don't correct mistakes or reward success.
Bruce Tulgan's message, "It's okay to be the boss," addresses the biggest problem in most workplaces – an under management epidemic affecting managers at all levels of the organization and in all industries. It's Okay to Be the Boss: The Management Workshop is a workshop that provides clear, step-by-step "back to basics" guidance for helping people in supervisory roles become the strong, highly engaged managers who know how to position their employees for success.

The one-day workshop explains eight back-to-basics techniques that clearly show how managers at all levels can become capable and highly-engaged and develop the confidence and skills to:

Manage everyday and conduct effective regular one-one-ones with direct reports and others. Talk like a performance coach and communicate clearly and effectively. Work effectively with each direct report individually and acknowledge their strengths and weaknesses. Create an environment that holds employees accountable. Make expectations of employees clear by telling people what to do and how to do it. Monitor, measure, and document employee performance. Solve small problems before they become big problems. Tie rewards to performance. Learning Outcomes:
Understand the importance of being a strong, highly engaged manager. Learn the difference between obstacles that can be controlled – and those that cannot. Discover strategies for working around obstacles that cannot be controlled. Learn and practice eight back-to-basics techniques for helping their employees succeed. Develop and action plan for applying the eight techniques in carrying out their daily management responsibilities.


Theory and Development

Author Bruce Tulgan has been researching the dynamics of supervisory relationships since 1993. Based on his findings, he narrowed his focus supervisors who "under manage" their direct reports. He began to investigate this "under-management" condition as a "disease" afflicting the workplace.

Specifically, Bruce defines under-management as a condition in which a leader with supervisory authority fails to provide his or her direct reports with any of the following "Five Management Basics":

Clear statements of performance requirements and standard operating procedures related to recurring tasks and responsibilities. Clear statements of defined parameters, measurable goals, and concrete deadlines for all work assignments for which the direct report will be held accountable. Accurate monitoring, evaluation, and documentation of work performance. Clear statements of specific feedback on work performance with guidance for improvement. Rewards and detriments distributed fairly. After much research and direct evaluations of more than 500 participants, Tulgan's research indicates the following:

Under-management is a workplace disease of epidemic proportions. The impact of under-management is harmful and costly. There are four leading causes of individual infection. Environmental factors support the spread of the disease. The small percentage of managers who are hands-on tend to follow several or more of a series of best practices.

Uses for the Program

It's Okay to Be the Boss: The Management Workshop is designed for anyone in a managerial or supervisory role who is concerned about retaining valuable employees and helping them work more productively. Although the primary audience is mid-level managers with some experience, the workshop can also be conducted for people who are new to managing and for senior-level people who manage other managers.

The ideal size for this workshop is forty participants, and the minimum recommended size is twenty. During the program, participants work together in table teams of four to six, with team leaders chosen by the groups.
Click here to visit HRDQ
---
---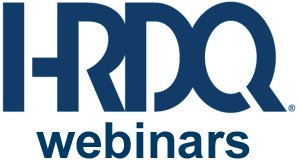 Taking the Lead: Five Things Every Supervisor Needs to Know

Duration: 60 minutes

Overview

What makes a great supervisor great? While there may not be a quick and simple answer to that question, there is a certain skill set that, when learned through time and exposure, make supervisors more effective. But with increasing pressure being placed on supervisors to perform, organizations can't afford this long learning curve. Join us for an informative webcast that will help you – the trainer – get your audience up to speed fast.

What You Will Learn

Five skills every supervisor needs in order to be successful. How to identify a supervisor's strengths and weaknesses. Actions supervisors should avoid. How to help supervisors plan, prioritize, and delegate. Things supervisors can do to build productive relationships.
About the Presenter

Dr. Annette Cremo is a seasoned training professional with over 15 years of experience in education, organization development, and human resources. Her clients include AAA, GlaxoSmithKline, Hershey Foods, and Ingersol Rand. In addition, Dr. Cremo is a university instructor, leading courses in training and presentation skills at Pennsylvania State University.

An expert in team building, leadership, and supervisory skills, Dr. Cremo earned her PhD in Psychoeducational Process from Temple University. Her doctoral research examined the active learning process for high-performance work teams and the group problem-solving process. Go to HRDQ, click on webcast,watch free

---
Delegating for Growth (1/2 Day Program)

Delegation is one of the most valuable professional skills you can master and when done well, can be instrumental in the advancement of individuals and an organization overall. Delegating for Growth is an interactive skills training course that will help any manager to better understand the purpose of delegation, prepare for and apply the steps to delegating effectively, and learn to recover from inevitable mistakes or disappointments. This half-day program will help to increase company-wide productivity, foster employee confidence at all levels, and develop a team-driven culture.

Table of Contents:

Instructional Design and Learning Philosophy, Course Objectives:Your Attitude Toward Delegation,Why Delegate? Characteristics of Positive Delegation,Barriers to Delegation Deciding What to Delegate, Matching People and Projects, Delegation Don'ts, Begin with the End in Mind,Identify Boundaries, Establish Communication Expectations, Provide Support, Anticipate Problems, Review Work, Letting Employees Make Mistakes, Help Employees Learn from Mistakes. Action Plan: Course Review,Course Evaluation

Learning Objectives: Recognize delegation as a tool for employee growth (not just as a way to lighten your own workload). Prepare yourself to delegate effectively. Assess your employees to determine their delegation needs. Match employees and projects appropriately. Identify barriers to delegation and overcome them. Apply the steps to delegating effectively. Handle mistakes, missteps, and failures as learning opportunities.Go to HRDQ for more info:

---
---