Online Assessments
---
Whether you are a trainer who needs to administer assessments to a large audience, or an individual who is interested in personal development, HRDQ offers online assessments for skill development on a wide range of soft-skills topics, including change management, communication, leadership, negotiating, and more.
---
Online Assessments for Organizations & Groups :
Gone are the days of mailing pre-work to participants, shuffling paperwork, and tabulating scores in your head. Now there is a streamlined solution that will transform the way you prepare for and deliver training with online assessments, whether your audience is 20 or 2,000. Welcome to the HRDQ Assessment Center, our online portal that gives you complete control over the entire process, from purchasing and distribution, to administration, scoring, and data management – all with just a few clicks of a mouse.

As a trainer, your HRDQ Assessment Center account enables you to:

Distribute assessments instantaneously to a global audience. Centralize data collection and management. Manage and track the participant progress and completion. Access scores immediately and control the release of results. Provide full-color reports to your audience. Print results on demand. There are benefits for your audience as well, including:
24/7 access to a secure personal account, The ability to complete assessments from any location, at any time. Automatic scoring and instant results. Personalized, full-color interpretive reports.
Visit HRDQ:Click here to visit HRDQ
---
Online Assessments for Individuals:

Maybe you are looking for self-study personal development tools. Or perhaps you want to learn more about yourself. Here is a great place to start! We offer a wide range of online assessments that can help you gain valuable insight, make progress on career goals, and improve your performance at work.
HRDQ Online Assessments Offer Skill Development in: Change Management, Communication, Influence, Listening, Negotiating, Personality, Selling Skills, Supervising, Time Management. Comprehensive and easy to use, each online assessment includes a personalized report that provides you with all of the interpretive information and action planning you need to inspire growth and lasting change.Learn more at HRDQ:Click here to visit HRDQ
---
Go to HRDQ to learn more:

---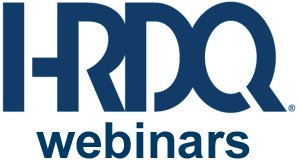 ---
Trainer Education Webcast Series at HRDQ,

Gain industry knowledge and insight with the Trainer Education Series, free webcasts designed specifically for today's training professional.

Space at each webinar is limited. Special offers are provided to attendees! Reserve your seat now! Following registration, you will receive a confirmation email containing detailed instructions shortly after you complete the registration process.

The HRDQ Assessment Center - Transforming the Way You Train with Online Assessments

Duration: 5.25 minutes Spend more time training and less on administration.
HRDQ Online Assessments give you greater control over your training and make management easier. Join us for a brief, on-demand presentation and find out how:

Online access means fast, secure training delivery and easy user access.
Automatic, foolproof scoring eliminates time-consuming manual tabulation.
Secure site ensures participant privacy.
Track participant progress online at any time.
The HRDQ Assessment Center puts you in control over the entire assessment process. It streamlines setup, distribution, scoring, and reporting processes, making management easier.

---
---
---
---