Managing for Employee Engagement
---
---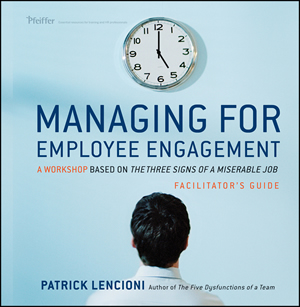 Managing for Employee Engagement

Based on Patrick Leoncioni's bestselling book The Three Signs of a Miserable Job, this powerful new assessment and workshop targets and develops the ability of managers to effectively engage, motivate, and retain employees. Learn more at Click here to visit HRDQ

"The dissatisfaction of employees has a direct impact on productivity, turnover, and morale, all of which eventually hit a company's bottom line hard." -Patrick Lencioni
---
A miserable job is not the same as a bad job. A miserable job is one that causes anxiety and the "Sunday blues," those awful feelings of dread and depression. Miserable jobs drain people of their energy, confidence, and self-esteem. Miserable jobs also have a huge impact on an organization, its productivity, turnover, morale—and its bottom line. According to Patrick Lencioni, author of the bestselling book The Three Signs of a Miserable Job, there are three underlying factors that are causing what he believes has become an epidemic in today's business world:
Anonymity: Employees feel unknown or invisible at work. Irrelevance: Employees sense the work they are doing has no impact. Immeasurement: Employees are unable to measure their contributions or success. Free Resources at Click here to visit HRDQ Download the Frequently Asked Questions.
Lencioni points out that while the "Three Signs" are simple—maybe even obvious—most managers fail to satisfy their employees with these fundamentals of a meaningful job. He tackles the topic of misery at work with Managing for Employee Engagement, a powerful new assessment and training workshop that targets and develops the ability of managers to effectively engage, motivate, and retain employees.
Learning Outcomes
Understand the difference between a bad job and a miserable job Know the effects of job misery on employees and organizations Learn the Three Signs of a Miserable Job Model Discover if direct reports are miserable Learn techniques to improve job satisfaction and productivity Managing for Employee Engagement helps managers get their arms around what causes job misery and provides them with simple, but successful solutions for boosting job satisfaction in their employees.

How It Works
Managing for Employee Engagement is a comprehensive training package that offers a manager assessment and a flexible half-day to full-day workshop design. It can be used by anyone who wants to help managers improve their performance, including trainers, consultants, and managers of managers. No special certification is required—everything that's needed to prepare for and facilitate a high-impact training session is included in the Facilitator Set. Managing for Employee Engagement can also be used for self-study learning. Learn more at,Click here to visit HRDQ
---
Patrick Lencioni is founder and president of The Table Group, Inc., a specialized management-consulting firm focused on organizational health. The author of many bestselling books, including Five Dysfunctions of a Team, The Three Signs of a Miserable Job, and Getting Naked, Patrick is a sought after speaker, delivering keynotes with the likes of George Bush Sr., Rudy Guiliani, and General Colin Powell. His work has been featured in numerous publications, including BusinessWeek, Fast Company, and The Harvard Business Review. Patrick has worked with thousands of senior executives in organizations such as Southwest Airlines, Barnes & Noble, General Mills, Newell Rubbermaid, SAP, Washington Mutual, and the US Military Academy at West Point.
Product Type Assessment and Workshop
Measures A manager's susceptibility to the Three Signs
Number of items 36 Dimensions
Anonymity Irrelevance Immeasurement Time Required Assessment: 30 minutes Interpretation: 1 – 1.5 hours Workshop: Half-day to full-day, Go to HRDQ.Click here to visit HRDQ
---
---
---
---
---
1 of 4 Minimum Authorities Each Manager Must Have


---
2 of 4 Minimum Authorities Each Manager Must Have

---
3 of 4 Minimum Authorities Each Manager Must Have

---
4 of 4 Minimum Authorities Each Manager Must Have

---
---