Football coaches quotes
---
---
---
Motivational Sampler Set
from: Simple Truths

---

Finish Strong: Teen Athlete...Developing the Champion Within, by Dan Green
Western Oregon University's Sara Tucholsky had no idea that the first - and, as it turns out, only - homerun of her career would cause ripples that would make her last swing of the bat as a college softball player a national media sensation.

With two runners on and her team down a run to Central Washington University, Sara hit a homerun to centerfield. As she rounded first base, she missed the bag. When she turned to tag the base, she injured her knee. Able only to crawl back to the base, Sara was told that she would be called out if her teammates came to her aid. If a pinch runner checked into the game, her homerun would count only as a single.

Players and fans alike were stunned when Central Washington first baseman Mallory Holtman, the conference's all-time homerun leader, asked the umpire if there was any rule against opponents helping an injured player around the bases.

She was told that there was not. Together, Holtman and shortstop Liz Wallace picked up Tucholsky and carried her around the bases, stopping at each bag to allow Sara to touch it with her good leg. "It was the right thing to do," Holtman said in an interview on national television, after the respectful act of sportsmanship had been witnessed by millions on ESPN and had become a YouTube sensation.

The three runs sent Western Oregon to a 4-2 victory, ending Central Washington's chances of winning the conference and advancing to the playoffs.

"It's a great story," Western Oregon coach Pam Knox said, "something I'll never forget - the game's about character and integrity and sportsmanship, and it's not always about winning and losing."

As it turns out, the players who helped Sara had no idea of the circumstances surrounding the at-bat, or that the story would make headlines around the country. "We didn't know that she was a senior or that this was her first home run," Wallace said Wednesday. "That makes the story more touching than it was. We just wanted to help her." The gesture left Sara's Western Oregon teammates in tears. "I hope I would do the same for her in the same situation," Sara said. Central Washington coach Gary Frederick called the act of sportsmanship "unbelievable."

"In the end, it is not about winning and losing so much," Holtman, who initiated the act, said. "It was about this girl. She hit it over the fence and was in pain, and she deserved a homerun."

---
A great source to find sayings, quotes, idioms, proverbs, and expressions from around the globe for a variety of uses. Click now,
---
Finish Strong
The motto of the Super Bowl XLIV Champs, New Orleans Saints> So many times it's not what you say, but how you say it that turns the switch from "off" to "on".

This 3 minute movie and the message turned the switch "on" for the New Orleans Saints at the beginning of their season. The rest, as you probably know, is history! They are headed to the Super Bowl for the first time in their 43 year history. The Saints WIN ! Saints are super ! New Orleans 31, Indianpolis 17.
---
Wisdom of Coaches

Football coaches quotes :

Football coach shares their ideas about teambuilding. …Remember these great quotes!
---
If lessons are learned in defeat, our team is getting a great education." Murray Warmath / Minnesota

"At Georgia Southern, we don't cheat. That costs money and we don't have any." Erk Russell / Georgia Southern.

"Football is only a game. Spiritual things are eternal. Nevertheless, Beat Texas ." Seen on a church sign in Arkansas prior to the 1969 game.

"After you retire, there's only one big event left....and I ain't ready for that." Bobby Bowden / Florida State
---
---
An easy way to encourage yourself daily is to visit the Inspirational Dashboard as your destination for inspiration. There you can locate thousands of inspirational quotes and stories.
---

Vince Lombardi, the legendary coach for the Green Bay Packers, is one of my heroes. And that is why I was so thrilled to have the chance to work with his son, Vince Lombardi, Jr., to create an unforgettable book that would share his father's keys to success. The message is built around Lombardi's most famous speech...What It Takes To Be #1. In the book we combine the words of his father's speech with nine inspiring chapters from Vince Jr. to capture the essence of the Lombardi philosophy. The beauty of the message is that it transcends football. For me, it truly captures the fundamentals for success in sports, in business, or in life. The 9 chapters include Lombardi's philosophy on: Commitment, Discipline, Excellence, Mental Toughness, Habits, Faith, Passion, Results and Truth.
What It Takes To Be #1 not only has inspirational words, but also has 62 great vintage photographs of Lombardi, many of which have never before been seen. However, the real icing on the cake is when Vince Jr. called and said, "Mac, I've found a recording of my Dad's famous speech that has never been heard before. Why don't we put it on a CD and include it with each book?" I have to tell you I had goose bumps when he told me!
Watch this movie:

---
Play Fantasy Football, click here now: NFL.com
---

And The Heisman Winner Is… - $ 6.99
From: PrintableGamesAtoZ
---
"The man who complains about the way the ball bounces is likely to be the one who dropped it." Lou Holtz / Arkansas

"When you win, nothing hurts." Joe Namath / Alabama
"Motivation is simple. You eliminate those who are not motivated." Lou Holtz / Arkansas

"If you want to walk the heavenly streets of gold, you gotta know the password, "Roll, tide, roll!" Bear Bryant / Alabama

"A school without football is in danger of deteriorating into a medieval study hall." Frank Leahy / Notre Dame

"There's nothing that cleanses your soul like getting the hell kicked out of you." Woody Hayes / Ohio State

---
---

Football Bingo - $ 6.99
Retail Price: 7.99
You Save: $1.00
From: PrintableGamesAtoZ
---
"I don't expect to win enough games to be put on NCAA probation. I just want to win enough to warrant an investigation." Bob Devaney / Nebraska

"In Alabama , an atheist is someone who doesn't believe in Bear Bryant." Wally Butts / Georgia

"You can learn more character on the two-yard line than anywhere else in life." Paul Dietzel / LSU

"It's kind of hard to rally around a math class." Bear Bryant / Alabama

When asked if Fayetteville was the end of the world. "No, but you can see it from here." Lou Holtz / Arkansas

... "I make my practices real hard because if a player is a quitter, I want him to quit in practice, not in a game." Bear Bryant / Alabama

"There's one sure way to stop us from scoring-give us the ball near the goal line." Matty Bell / SMU

"Lads, you're not to miss practice unless your parents died or you died." Frank Leahy / Notre Dame

"I never graduated from Iowa , but I was only there for two terms -Truman's and Eisenhower's." Alex Karras / Iowa

"My advice to defensive players: Take the shortest route to the ball and arrive in a bad humor." Bowden Wyatt / Tennessee

"I could have been a Rhodes Scholar, except for my grades." Duffy Daugherty / Michigan State

"Always remember ..... Goliath was a 40 point favorite over David."Shug Jordan / Auburn
---
---

Sweets For The 'Sweet' NFL Challenge - $ 6.99


A challenging pre-game activity filled with NFL history and a tidbit of tabloid gossip (just to throw players off their game.) NFL history buffs will enjoy the challenge of thinking outside the box in order to score big. Answer key included.



---
---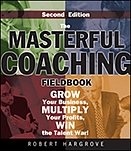 The Masterful Coaching Fieldbook

Robert Hargrove shares his secrets as a masterful coach with leaders of all levels: Coaching is about realizing an impossible dream and winning at the great game of business, not just about changing attitudes and behaviors.

This book describes:
How to find the best talent on earth. How to create an impossible future and WIN in your business. How to create a winning game plan. How business can be the ultimate self-development and growth experience. Find this book at HRDQ. Click here to visit HRDQ
---
"They cut us up like boarding house pie. And that's real small pieces." Darrell Royal / Texas

"Show me a good and gracious loser, and I'll show you a failure." Knute Rockne / Notre Dame

"They whipped us like a tied up goat." Spike Dykes / Texas Tech

"I asked Darrell Royal, the coach of the Texas Longhorns, why he didn't recruit me and he said: "Well, Walt, we took a look at you and you weren't any good." Walt Garrison / Oklahoma State

"Son, you've got a good engine, but your hands aren't on the steering wheel." Bobby Bowden / Florida State

"Football is not a contact sport - it is a collision sport. Dancing is a contact sport." Duffy Daugherty / Michigan State

After USC lost 51-0 to Notre Dame, his postgame message to his team: "All those who need showers, take them." John McKay / USC

"The only qualifications for a lineman are to be big and dumb.. To be a back, you only have to be dumb." Knute Rockne / Notre Dame

"Oh, we played about like three tons of buzzard puke this afternoon.." Spike Dykes / Texas Tech

"It isn't necessary to see a good tackle. You can hear it." Knute Rockne / Notre Dame

"We live one day at a time and scratch where it itches." Darrell Royal / Texas
---
"We didn't tackle well today but we made up for it by not blocking." John McKay / USC

"Three things can happen when you throw the ball, and two of them are bad ." Darrell Royal / University of Texas

"I've found that prayers work best when you have big players." Knute Rockne / Notre Dame

"Gentlemen, it is better to have died a small boy than to fumble this football" John Heisman
---
---
---
If you are a coach, you need to watch this new movie and show it to your team.
At Simple Truths, we're proud to say that we've created over 40 short inspirational movies that over 80 million people have watched on the internet. However, this one is my all-time favorite.

Why?

Because the message is so simple, yet so powerful. If you "get it," not only will it make you a better person, but quite possibly...it will change your life.

Just click here to watch The 100/0 Principle Movie, but don't forget to forward to friends and co-workers. Marc Anderson, CEO for Simple Truths, will guarantee...they'll thank you!
Watch this new movie now:

---
What It Takes To Be Number One

Lombardi! Perhaps no single word in the English language communicates such strong visions of excellence, discipline, commitment, and of course, winning. The Lombardi philosophy, however, transcends football. He had the unique ability to articulate the fundamentals of success for football, business and life unlike any leader. Enjoy this three minute inspirational movie that shares Lombardi's keys to success in an unforgettable way with vintage photos, great Lombardi quotes, and the rare audio segments from Lombardi giving his famous speech … What It Takes To Be #1.
Vince Lombardi was a hero to many of us. His speech "What It Takes To Be Number One" transcends football. The words capture the fundamentals of success for any business or any life. The beautiful gift book titled, "What It Takes To Be NUMBER ONE" combines the words of the famous Lombardi speech with nine inspirational chapters written by Vince Jr., presenting his Dad's nine keys to success.


Get Inspired and Stay Inspired!
---
---

Great Quotes from Great Leaders with FREE DVD - $ 15.95
From: Simple Truths

Motivational Quotes - $ 15.95
Motivational Quotes is a classic re-visited. In 1985, Mac Anderson's love of quotes inspired him to publish a small 80 page gift book titled Motivational Quotes. In just 18 months it sold 800,000 copies in hotel and airport gift shops.


Great Quotes from Great Women - $ 15.95
Timeless widsom shared from great women from all over the world and all walks of life are discovered in this beautiful quote book. A wonderful client gift or teacher gift for the holidays.


Golf Quotes - $ 15.95
Each page is beautifully designed and you will marvel at the beautiful photographs of golf courses from around the world. Golf quotes from golf legends like Arnold Palmer, Jack Nicklaus, Lee Trevino, Sam Snead, Payne Stewart and many more, will have you laughing and thinking about this wonderful game called golf.


Laughter is an Instant Vacation with Free DVD - $ 15.95
From: Simple Truths
---
Do you need some new Football Gear?
Find Football Equipment here.
Football America - The Football Superstore - Shop Now
Find the bestBest Selection, Best Prices, Best Service - Football America
Football Apparel
Football America
Football America - All The Brands You Trust
Looking for Football Internet Specials

---
---
---
---
Football Posters
---
---
---