First Aid Kit for Stress
---
First Aid for Stress provides starting points to help you better understand stress and identify solutions for individuals, teams, and the organization. The activities offer a variety of ways to recognize and measure stress, change perceptions and behaviors, and lend support in the workplace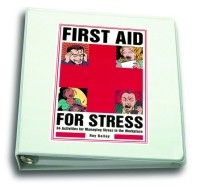 Uses for First Aid for StressThis activity collection offers a well-rounded approach to stress management that can benefit individuals, teams, and organizations in any industry: Part I is an extensive discussion about stress, including:An introduction of well-known models for understanding stress. Key causes of stress within organizations and how to identify them. Possible stress management solutions. An approach to managing stress in the workplace that is based on an understanding. of stress, the workplace, and the people within it. Part II consists of 34 activities that:

Measure the ongoing stress of individuals and groupsProvide coping strategies Explore ways to prevent and avoid the situations that generate stressProduct ContentsIn-depth background information on stress management. Purpose statement for each activity. Step-by-step facilitator guidelines. Summary of activities. List of figures and tables. Evaluation of Popular Stress Management Strategies. Reproducible participant materials. CD-ROM containing reproducible handouts. Activities include:Observing Stressful Behavior The TFB Model of Stress. Stress Arousal. Job Stress/Satisfaction. Stress Check.ú Demands and Coping Profile. Stress Management Interviewing.ú Coping Through Colors. Coping Through Collage. Emotional Reprocessing. Progressive Relaxation. Visual Focusing. Meditating to Manage Stress. Balanced Breathing. The Art of Reframing. The Sweet Smell of Success. Linguistic Imperatives ú The Power of Self-Talk. The Mind-Body Stretch. Stress Rehearsal. Comeback Copy. Higher and Lower Self. Relationships and Responsibility. Cafeteria Coping. Team Coping. Overcoming Fear and Anxiety. Overcoming Anger. Coping Networks. Guiding Decisions. Releasing Resentment. Defending Yourself. Making Requests. Refusing Requests. ?SMART? Stress Plans. You can find the First Aid kit for stress at HRDQ:

The Stress Effect Why Smart Leaders Make Dumb Decisions – And What to Do About It by Henry L. Thompson
"At first I thought I was reading a neurological text, until I realized he was establishing a foundation for those who would become practitioners, learners, and trainers." ~ Jim Beeler
The Stress Effect targets leadership and draws on decision making examples provided by leaders in stressful times. Dr. Thompson points toward the fallacy of thinking a great response in one situation would "be a one size fits all" leader. He leads the reader through the connections between stress and decision making, and the relationships between emotional intelligence and stress.
The first half of The Stress Effect draws the reader into the workings of the brain. At first I thought I was reading a neurological text, until I realized he was establishing a foundation for those who would become practitioners, learners, and trainers. Having read more "clinical" versions on brain interactivity, I noted his writing was more toned down. He wasn't opening my head for me to see, he was opening my eyes to my head. He built his case slowly, methodically, and purposefully to provide practitioners the tools necessary to continue building their own stress programs.
Nearly mid-way through his book, Dr. Thompson shifts gears from relationships of subjects to relationships between the subject and preparation for responding to stress. I certainly appreciated the offers for preparation. It was not long before I understood more about previous practices and real life events in my life.
While The Stress Effect is timely, the lessons from Dr. Thompson are timeless. The reader soon learns stress is not an either/or condition, it is a "level of" condition. As Dr. Abraham Maslow pointed out in his Hierarchy of Needs, any one of our needs creates stress to some degree, but not necessarily the same degree or with the same effect. A level of stress in one areas can impact other areas, depending on its severity. It is the leader who needs to understand stressful situations, how to respond to or lead people through stressful times and events, and the consequences for both solutions and chronic conditions.
As his final chapter, Dr. Thompson offers the Seven Best Practices. His ARSENAL provides readers a glimpse of practices to reduce, resolve, or remove stress. There are ways to reduce stress through practice, planning, and processes. ARSENAL provides the reader tools and ideas to overcome many of life and workplace stressors.
At first thought, I looked at The Stress Effect as purely organizational or business. While those are his target audience, I submit that he provides readers with a span to cover all phases of life. His analogies, examples, and connection with life are easily transferable to both the CEO and the mother faced with a household emergency, from the pastor serving his congregation to the fireman responding to a call, and from the child reacting to bad grades to the teacher's response.
I highly recommend The Stress Effect. Dr. Thompson's approach is on target for practitioners, trainers, educators, and students of emotional intelligence. Understanding stress, the effect on both decisions and personnel, the consequences on the entire organization, and resulting effects on customers, economics, and service are critical. While many debate the recovery of the recent global downturn, the world will not soon recover completely. Stress remains in nearly every household, in every organization, and in every mind. It is one of those things we know has happened or will happen, but with The Stress Effect we will have an ARSENAL to at least address the situation before more dumb decisions are made.
Reviewed by Jim Beeler

Dr. Thompson offered a completely new look at stress and its relationship to the workforce. I started reading The Stress Effect with a curious eye toward the relationship between stress and decisions in the title. Dr. Thompson delivers on his title, and then Find this book at HRDQ,Click here to visit HRDQ

---
---
Stress? Laugh At It! Some call it chicken soup for stress. This simple and unique stress management method uses humorous cartoons to illustrate a lighthearted and effective approach to beating your stress, in the home or at work,Click Here!
---
Learn how to manage your time:
Stephen R. Covey's 7 Habits at FranklinCovey.ca.

Stress Control Cards
No one can resist the Stress Control Biofeedback Card!
Don't underestimate the power and pull of this little card. It's simple, it's fun, and it's something your participants can carry away and use, over and over again.
You know how it works. Simply hold your thumb on the Stress Control Card indicator for about 10 seconds, until it changes color.

Blue - you're calm,
Green - you're normal,
Red - you're tense,
Black - you need a vacation!
Find these stress cards at HRDQ:

---
How to Handle Change and Upheaval (1/2 Day Program)Change is a certainty in today's environment. The key to surviving and thriving is to take a proactive approach to change. This program provides the tools to assess typical attitudes toward change, intervene in the change cycle with positive strategies, and combat change-related stress.The HRDQ Reproducible Program Library comes in half-day to multi-day formats. Select the individual titles you need, choose from pre-selected topic series, or purchase the entire collection to own the ultimate training library. Each program comes ready to train with printable Participant Guides, an easy-to-use Facilitator Guide, and a Microsoft PowerPoint presentation. Most programs include additional content such as quick reference cards. That's not all - they're fully customizable, so you can add your company brand, tailor the content to your specific industry or organizational needs, and print on demand. We also provide you with simple instructions for downloading your programs. Each program is provided in a zipped file which includes Microsoft Word and PowerPoint files for all components. There is no waiting for delivery or CD's to damage or lose.Go to HRDQ to learn more: Click here to visit HRDQ Click here to visit HRDQ
---
Tackle even the most difficult communication problems with Communication Derailed, an engaging simulation game that demonstrates the profound impact of poor communication ? and then teaches the skills needed to communicate effectively.This popular game addresses three common communication challenges: communication in teams, lateral communication, and communication during organizational stress. The modules can be run independently or in a series, depending on your learning goals. Trainers love this game because it is easy to facilitate and all parts are reusable. Everything you need to deliver a powerful learning event is included in one kit!How it works:Working as employees of a toy manufacturing company, teams are charged with building new prototypes using fun, colorful parts. But the hands-on tasks become difficult when they are faced with obstacles that challenge their communication skills. Through the experience of working together and with the help of the facilitator, participants learn how to overcome these problems to improve their performance through effective communication. Learning Outcomes: ? Discover the impact of both effective and ineffective communication ? Identify damaging communication techniques and environments ? Improve communication behavior ? Learn to handle unique communication problems Communication Derailed can be used as a stand-alone learning event or integrated into a larger training initiative. Find this tool at HRDQ: Click here to visit HRDQ
---

Meeting Repair Kit:

Time spent in meetings can be the most productive part of your day, but only if you first understand what goes into a successful meeting. The Meeting Repair Kit is based on the concept that there are 6 working components of effective meetings. If any of these parts are missing or in poor working order, meetings will stall - or break down entirely.

The Meeting Repair Kit is divided into 6 learning modules, one for each essential component of successful meetings:
Purpose and Direction, Leadership, Interpersonal Relations, Decisions, Ground Rules,and Meeting Environment. Individuals begin by evaluating and learning about different aspects of meetings, and then use exercises and activities from the "toolbox" to improve their meeting skills. Finally, participants apply their skills using these tools and the customizable templates during actual meetings. Upon completing all 6 modules, participants have a personalized meeting skill book to use as a handy reference tool!

Ideal for self-paced learning, established meeting groups, or trainer-led workshops, the Meeting Repair Kit can be used to:

Understand the nuts and bolts of effective meetings. Identify the key meeting elements in need of repair. Tune up individual and group meeting skills. Designed to be used one at a time or in sequence, each module includes a short survey to determine developmental needs, criteria for effective meetings, tools for repairing meeting skills, skill-building activities, tips for using tools in future meetings, key learning points, and customizable templates on disc.
Go to HRDQ, to find this Meeting Repair Kit,

---
---
The best time to develop ways to deal with stress is when you are feeling relaxed and have some time to spare to reflect on the main causes of stress in your life. Having some idea of the first signs of stress will enable you to act quickly before things get out of hand. Help your team and read more at
---
t may seem like the celebration of a brand new year was not that long ago, but we will soon arrive at the midpoint of 2011. If your New Year inspiration has faded renew it each day with one of Simple Truth's top selling gift books, Inspiration 365. This book compiles Zig Ziglar's favorite life quotes with one for each day of the year making it a perfect gift for a graduate, teacher or coach. Encourage others to start each new day with a positive outlook!
"Wherever you go…go there with all your heart." - Anonymous
Start each day with a motivating thought to inspire you throughout your day. Zig Ziglar is a legend when it comes to motivation and the Simple Truths gift book and movie, Inspiration 365, is a compilation of Zig's favorite life quotes. Take a few minutes to watch this movie and be inspired!
Watch this movie link ~

*** NEW BOOK **** ~ Stress Is A Choice by David Zerfoss ~
We can all relate to the stress but how we handle stress may be different for each of us. See the sample content and the product link below to share with others this new perspective about stress.
Stress is a Choice provides ten rules that provide an inspired road map to simplifying your life and to choose less stress. A new perspective on dealing with stress may change your life.
Look Product link ~ Stress Is A Choice

---