E-learning for Team Building
Custom Search
---
Training delivered as e-Learning using PowerPoint. e-Learning is a fast, efficient means of delivering training to participants. But the cost per participant and process of customization can be daunting. You want a low, one-time price per title, an open format that is easily customized, and no restrictions on distribution in your organization. You want e-learning without limits... Find this team building tool at HRDQ store.Click here to visit HRDQ
---

---
Become a E-coach.Learn how. Do you have years of experience and knowledge about a particular topic that you would like to share with others? Would you like to get paid to do this?Click Here!
---
Welcome to the PowerLearning Library, a collection of customizable, self-paced learning titles that address today's most pressing workplace issues. Each program provides approximately one hour of active, self-paced learning, including checkpoint quizzes and printable worksheets. Many of the titles also include a supplemental case study for real world application.

You have the power to customize. Each program is delivered to you ready to use in PowerPoint format, but with just a few clicks, you can add your company logo or tailor the content to suit your specialized learning goals.
Learn more at HRDQ store.Click here to visit HRDQ You have the freedom to distribute.

Pay a single price for each program an distribute to all the learners in your organization. There are no renewable contacts. Train as many people as you like using email, your intranet, or digital media.

No risk. All titles are guaranteed to meet your needs. Click through below to read descriptions and see previews of each title.
Choose from over 80 titles on team building topics.
---
The HRDQ PowerLearning Library is a collection of 13 Powerpoint-based training programs that are perfect for self-learning training programs. Each PowerLearning title comes with a Knowledge Course to guide learners through the training and a Case Study that applies learning to real life situations. The Knowledge Courses are filled with Interactive Quizzes and Worksheets all designed to help facilitate and reinforce the training content.

Best of all, the PowerLearning Library is purchased once and distributed over and over again, without any per seat charges.
When you purchase the entire PowerLearning Library, you get 13 titles for only $3,495. You'll receive 4 titles absolutely FREE!
In addition, when you purchase the PowerLearning Library, you can select up to two FREE books from best-selling author Jane Bozarth: e-Learning Solutions On A Shoestring and Better Than Bullet Points.

Order today at the HRDQ store.

---
---
---
---
---
---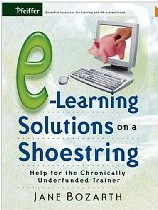 Is e-learning at your organization chronically underfunded? Discover how you can create workplace solutions with minimal budget in e-Learning Solutions on a Shoestring. Author Jane Bozarth, recognized as e-Learning Centre's October 2005 Pick of the Month, provides the nuts-and-bolts information you need to incorporate e-learning solutions at minimal cost. She offers myriad strategies for building from-scratch programs, recycling, reusing, and repurposing resources; negotiating reasonable expenses for "store bought" e-learning products; and incorporating real-world ideas for assembling tools, techniques, and strategies into workplace solutions.

"Effective training is key to preparing our workforce for the demands and challenges of the global economy. This book highlights the fact that, even on a limited budget, there are many tools available online that will increase efficiency and improve productivity in businesses, government agencies, and other organizations."

Michael F. Easley, governor, State of North Carolina "I adore bargains and this book points the way to online learning bargains that help folks learn! Others would have you think you need expensive vendors and infrastructure from the get-go, but Jane Bozarth shows you how to get started on a shoestring."

Patti Shank, managing partner, Learning Peaks, and coauthor, Making Sense of Online Learning

"Jane Bozarth finally provides us a guide to understanding what e-learning technologies can do for us¾without breaking the bank. The realization that you can do e-learning for pennies per participant shows us what we should have always known: the focus isn't the technology, it's the learning."

Jennifer Hofmann, founder, InSync Training, and author, Live and Online!

"e-Learning Solutions on a Shoestring should be required reading for any organization considering an e-learning program. Jane Bozarth has done much of the groundwork for us by reviewing and prioritizing resources and filling her book full of ways to save money—a tremendously practical and useful guide."

Colleen O'Connor Grochowski, assistant dean for curriculum development, Duke University School of Medicine

"Jane Bozarth's straight-shooting, can-do style gives hope and encouragement to those left out in the cold by high development costs. Proving that quality e-learning solutions are within reach, e-Learning on a Shoestring is the real deal for organizations trying to work with few or no resources."

Nancy Gustafson, manager, organization effectiveness, First Citizens Bank, Raleigh, North Carolina

"If you are starting to develop a plan for the e-learning future, I can't think of a better place to begin than with this book. It provides the nuts-and-bolts tools that could change any training organization dramatically and for the better."

Kyle Hoffman, senior project manager, Institute for Human Services
Order this book today at the HRDQ store.

---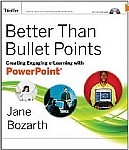 Better Than Bullet Points: Creating Engaging e-Learning with PowerPoint
Learn to leverage Powerpoint® to create superior training programs!

Better Than Bullet Points offers a practical guide for tapping into the force of PowerPoint and PowerPoint-based authoring tools (such as Articulate® or Adobe Presenter®) to create effective and memorable e-learning programs. Perfect for front-line trainers as well as instructional designers, this book includes step-by-step instructions and exercises for creating successful, compelling learning interactions. Better Than Bullet Points offers a wealth of information for harnessing the powerful features of PowerPoint, including everything from animation to tracking tools.

Praise for Better Than Bullet Points:
"Rather than purchasing expensive software, dedicated for e-learning, Better Than Bullet Points advocates using a tool that most of us already have, saving time and money without the cost of re-training. The benefits of combining PowerPoint and proven instructional design principles are refreshing: a clearer message and targeted training that can stand on its own."

Diane D. Chapman, teaching assistant professor and director, Training and Development Online Program, Department of Adult & Higher Education, North Carolina State University

"Jane Bozarth again shows us how to maximize resources and time while getting results. In her typical straight-shooting style, the author demonstrates that quality e-learning comes from good design, not expensive tools and software. Our own organization has achieved great success with her common-sense approaches—and now yours can, too."

Thom Wright, director, North Carolina Office of State Personnel
"PowerPoint ranks very high in our 'top 100 tools for learning.' It is a powerful tool yet it is not exploited as much as it could be for learning purposes. This book will show you how to get the most out of it."

Jane Hart, Centre for Learning & Performance Technologies
"Jane Bozarth's guide Better Than Bullet Points explains the power of graphic choices, treatments, hotspots, and hyperlinks. She suggests ways to replicate games and simulations, to handle multimedia files, and to create a good GUI using the Slide Master. Readers will see how to blend their e-learning with other training systems and make it available to all their learners.",

Karen Hyder, online speaker coach and event producer, The eLearning Guil
Order today at the HRDQ store.

---
---
Try this team building game for your next event:
---
---
---
Learn more about e-learning at : ed2go
---
Microsoft Store has all you need for back to school from Office Home and Student to PCs!
---
Excerpt from: Heart of a Teacher,
by Paula Fox
He was in the first third grade class I taught at Saint Mary's School in Morris, Minnesota. All 34 of my students were dear to me, but Mark Eklund was one in a million. Very neat in appearance, he had that happy-to-be-alive attitude that made even his occasional mischievousness delightful.

Mark talked incessantly. I had to remind him again and again that talking without permission was not acceptable. What impressed me so much, though, was his sincere response every time I had to correct him for misbehaving. "Thank you for correcting me, Sister!" I didn't know what to make of it at first, but before long I became accustomed to hearing it many times a day.

One morning my patience was growing thin when Mark talked once too often, and then I made a novice teacher's mistake. I looked at Mark and said, "If you say one more word, I am going to tape your mouth shut!" It wasn't ten seconds later when Chuck blurted out, "Mark is talking again." I hadn't asked any of the students to help me watch Mark, but since I had stated the punishment in front of the class, I had to act on it. I remember the scene as if it had occurred this morning. I walked to my desk, very deliberately opened my drawer and took out a roll of masking tape. Without saying a word, I proceeded to Mark's desk, tore off two pieces of tape and made a big X with them over his mouth. I then returned to the front of the room. As I glanced at Mark to see how he was doing, he winked at me. That did it! I started laughing. The class cheered as I walked back to Mark's desk, removed the tape, and shrugged my shoulders. His first words were, "Thank you for correcting me, Sister."

At the end of the year, I was asked to teach junior-high math. The years flew by, and before I knew it Mark was in my classroom again. He was more handsome than ever and just as polite. Since he had to listen carefully to my instruction in the "new math," he did not talk as much in ninth grade as he had in third. One Friday, things just didn't feel right. We had worked hard on a new concept all week, and I sensed that the students were frowning, frustrated with themselves and edgy with one another. I had to stop this crankiness before it got out of hand. So I asked them to list the names of the other students in the room on two sheets of paper, leaving a space between each name. Then I told them to think of the nicest thing they could say about each of their classmates and write it down. It took the remainder of the class period to finish their assignment, and as the students left the room, each one handed me the papers. Charlie smiled. Mark said, "Thank you for teaching me, Sister. Have a good weekend." That Saturday, I wrote down the name of each student on a separate sheet of paper, and I listed what everyone else had said about that individual.

On Monday I gave each student his or her list. Before long, the entire class was smiling. "Really?" I heard whispered. "I never knew that meant anything to anyone! I didn't know others liked me so much." No one ever mentioned those papers in class again. I never knew if they discussed them after class or with their parents, but it didn't matter. The exercise had accomplished its purpose. The students were happy with themselves and one another again.

That group of students moved on. Several years later, after I returned from vacation, my parents met me at the airport. As we were driving home, Mother asked me the usual questions about the trip, the weather, my experiences in general. There was a lull in the conversation. Mother gave Dad a sideways glance and simply said, "Dad?" My father cleared his throat as he usually did before something important. "The Eklunds called last night," he began. "Really?" I said. "I haven't heard from them in years. I wonder how Mark is." Dad responded quietly. "Mark was killed in Vietnam," he said. "The funeral is tomorrow, and his parents would like it if you could attend." To this day I can still point to the exact spot on I-494 where Dad told me about Mark.
I had never seen a serviceman in a military coffin before. Mark looked so handsome, so mature. All I could think at that moment was, "Mark, I would give all the masking tape in the world if only you would talk to me." The church was packed with Mark's friends. Chuck's sister sang "The Battle Hymn of the Republic." Why did it have to rain on the day of the funeral? It was difficult enough at the graveside. The pastor said the usual prayers, and the bugler played taps. One by one those who loved Mark took a last walk by the coffin and sprinkled it with holy water. I was the last one to bless the coffin. As I stood there, one of the soldiers who acted as pallbearer came up to me. "Were you Mark's math teacher?" he asked. I nodded as I continued to stare at the coffin. "Mark talked about you a lot," he said.
After the funeral, most of Mark's former classmates headed to Chuck's farmhouse for lunch. Mark's mother and father were there, obviously waiting for me. "We want to show you something," his father said, taking a wallet out of his pocket. "They found this on Mark when he was killed. We thought you might recognize it." Opening the billfold, he carefully removed two worn pieces of notebook paper that had obviously been taped, folded and refolded many times. I knew without looking that the papers were the ones on which I had listed all the good things each of Mark's classmates had said about him. "Thank you so much for doing that," Mark's mother said. "As you can see, Mark treasured it." Mark's classmates started to gather around us. Charlie smiled rather sheepishly and said, "I still have my list. I keep it in the top drawer of my desk at home." Chuck's wife said, "Chuck asked me to put his in our wedding album." "I have mine too," Marilyn said. "It's in my diary." Then Vicki, another classmate, reached into her pocketbook, took out her wallet and showed her worn and frazzled list to the group. "I carry this with me at all times," Vicki said without batting an eyelash. "I think we all saved our lists." That's when I finally sat down and cried. I cried for Mark and for all his friends who would never see him again.

The density of people in society is so thick that we forget that life will end one day. And we don't know when that one day will be. So please, tell the people you love and care for that they are special and important. Tell them, before it is too late.

Watch this movie:


Free Teacher-created resources plus ideas and help for high school teachers, especially first year teaachers. Printable worksheets, lesson plans, and handouts. My friend, Anna can help you out at :
---
---
Learn how you can build your own e-business:

---
---
---