Collaboration teambuilding
Custom Search
---
There is more than one version of The Four Cs of Teamwork. Jon R. Katzenbach proposed that they were communication, cooperation, collaboration and compromise whereas Lou Carloni suggested communication, cooperation, contribution and commitment. In either case analyzing a team's position on the four Cs is a useful exercise and these two examples have communication and cooperation in common. Perhaps we should settle on six Cs of Teamwork.
---
Communication
Katzenbach and Carloni both agreed that good communication was an essential ingredient of teamwork. Arguably communication is at the core of all processes within business. The basics of communication require that roles and responsibilities are discussed and assigned within the team and that information is effectively shared. Beyond this you must ask whether disagreements and conflicts are constructively handled and finally whether team members are open and honest. Trust is the key to effective teamwork.
Cooperation
Good teamwork requires that team members cooperate fully with each other. Cooperation is a result of good communication and it requires clarity and, crucially, trust. Effective cooperation should be a harmonious process and again the quality of communication will determine this. A measure of cooperation is that when a member of a team is under pressure others offer to help out and the key word is offer. Begrudgingly lending a hand having been told to do so is not the same.
Collaboration
It is quite difficult to differentiate between cooperation and collaboration. The definition of both words have much in common. Cooperation is more commonly used to describe an association of people for economic gain. Collaboration is typically an intellectual effort and it can also describe a treasonable association, for example with an enemy. It may suggest a form of very close and committed teamwork, but in this particular case I feel it is the weakest, or the least useful of the Cs.
Compromise
Compromise is very important in any relationship. It is rare for any outcome to be perfect; it is important that team members accept this and do not put colleagues under pressure particularly when a best effort is acceptable. There are conditions when perfectionism is necessary for example in engineering or when a less than perfect outcome presents danger. However, one of the most debilitating behaviours within a group effort is unnecessary nit picking or arguing over detail when it causes the team to lose focus on the objective.
Contribution
In most teams each individual will contribute a different set of skills to the group effort. The team must understand the role of each team member and they must understand how it contributes to the team's objectives. Ideally everyone will understand and recognise the importance of each colleague's skills. If one team member is perceived as being less important or not working as hard as others this will be a problem. If this is an issue between two colleagues the problem will need to be addressed by the team leader. If the feeling is a general consensus then serious questions need to be asked of the team member whose contribution is being questioned.
Commitment
Is the team committed to a common objective? Is the team, and particularly the leadership, committed to developing the individuals within the team? Are team members committed to one and other and do they share common values regarding the work they are doing? The first step towards encouraging commitment within a team is to make sure that they understand their objectives and how those objectives fit into the goals of the whole company. Teams need to know that the work that they are doing is important and valued elsewhere in the company. How can you use this information to the benefit of your team? Like many such theories this is essentially a discussion piece. You can take each word in turn and throw it out to your team members in an open session for discussion. Your objective is to see what issues come out of the discussion. You may find that other words and ideas come out of the discussion and you may find that there are other words which are more relevant to your team. There are also some useful online surveys based around this; again they are designed to stimulate discussion rather than reach a set conclusion.
---
Written by James Coakes is managing director of Progressive Resources, organisers of fun team building events for corporate clients at hotels and stately homes around the UK.
http://www.teambuilding.co.ukArticle Source: https://EzineArticles.com/?expert=James_Coakes
---
---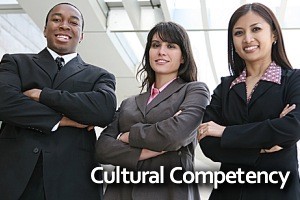 Cultural Competency (1 Day Program)
Awareness and acceptance of difference within an organization creates an environment of cohesion and collaboration; two essential components in order to be productive. In this course participants will identify the components of cultural competencies in the workplace. They will work together to create a cultural competency profile including personal goals to empower individuals to practice acceptance within their environment. Participants will leave this course with more understanding of others cultures and traditions, while also learning positive techniques to generate awareness within their organization.

The HRDQ Reproducible Program Library comes in half-day to multi-day formats. Select the individual titles you need, choose from pre-selected topic series, or purchase the entire collection to own the ultimate training library. Each program comes ready to train with printable Participant Guides, an easy-to-use Facilitator Guide, and a Microsoft PowerPoint presentation. Most programs include additional content such as quick reference cards. That's not all - they're fully customizable, so you can add your company brand, tailor the content to your specific industry or organizational needs, and print on demand.

We also provide you with simple instructions for downloading your programs. Each program is provided in a zipped file which includes Microsoft Word and PowerPoint files for all components. There is no waiting for delivery or CD's to damage or lose.
Learn more at HRDQ. Click here to visit HRDQ
---
At 211 degrees, water is hot. At 212 degrees, it boils. And with boiling water comes steam. And steam can power a locomotive. So many times it is that one extra degree of effort in business and in life that separates the good from the great. The beauty of 212° is not only the simplicity but also the many applications. You can apply the concept to 212° service, 212° attitude, 212° leadership, 212° kindness, 212° commitment, 212° focus, 212° perseverance and the list goes on. Whatever your passion or profession, how true it is!

---
---
---
Valuing Collaboration and Teamwork Participant Workbook: Creating Remarkable Leaders
Author: Kevin Eikenberry
Unleash your leadership potential — one skill at a time With the increasing complexities of the business world, strong leadership is more critical to success than ever. But finding the time to devote to leadership development is increasingly difficult. Developed with these dual realties in mind, the Remarkable Leadership workshop series is based on the book Remarkable Leadership: Unleashing Your Leadership Potential One Skill at a Time and consists of 12 workshops, derived from the leadership competencies described in the book.

After completing the Valuing Collaboration and Teamwork workshop, you will:

•Know a model for team success

•Recognize the difference between leader and facilitator and when you should fulfill each role

•Gain key insights into leading team meetings

Learn more, click here, Valuing Collaboration and Teamwork Participant Workbook: Creating Remarkable Leaders
---
---
---