Benchmark Skills
---

---
Get the tool that measures a higher level of team functioning. Benchmarks of Team Excellence reveals important information about the experience and attitudes of those who know the team best — the team members. Benchmarks will help you measure the extent to which teams possess the 6 indicators of excellence.
· Alignment · Team Effectiveness · Empowerment · Passion · Commitment · Results
By examining scores for 6 indicators of excellence, team members can identify areas of strength and weakness, discover overall patterns of agreement, and surface differences in perceptions about how the team is functioning.

---
Learning Outcomes
· Measure the extent to which teams possess the 6 indicators of excellence
· Compare a team's performance with other excellent and high-performing teams
· Determine action steps to help teams move farther and faster along the journey toward excellence
Theory
Benchmarks of Team Excellence was developed as part of an extensive research project that investigated the relationship between various leadership behaviors (visionary leadership behaviors and good management practices) and the level of excellence in the manager's team. A thorough review and synthesis of the literature revealed 6 indicators of excellent work units: alignment, team effectiveness, empowerment, passion, commitment, and results.

---
Find this tool: Benchmarks of Team Excellence , at HRDQ.
Click here to visit HRDQ

---
---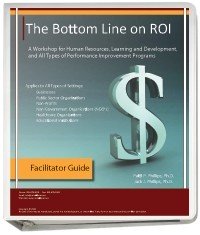 The Bottom Line on ROI
New from ROI experts Jack Phillips and Patti Phillips

Put your money with your mouth is

The Bottom Line on ROI
Jack Phillips, PhD and Patti Phillips, PhD

For decades, senior leaders simply accepted learning and development as a necessary "people" cost. But today is different. Today, senior leaders are asking the questions that make some trainers cringe. They want to know what value training and development initiatives bring to the organization. They want to know the business impact, and they want to know the return on investment.

New from subject matter experts Jack Phillips and Patti Phillips, The Bottom Line on ROI is a combination book and one-day workshop. Whether you are new to the ROI methodology or looking for ways to generate support for ROI within your organization, together these tools will provide you with a fundamental understanding of ROI and how it can be implemented.
Learning Outcomes:
Identify the benefits of developing ROI. Learn how to assess an organization's readiness for ROI. Understand the concept of ROI, its assumptions, and methodology Find out the criteria for effective ROI implementation. Learn the ROI Methodology, a model that will produce a balanced set of measures. Learn a communication process model for effective communication during the ROI process. Discover how to get started implementing the ROI Methodology. The book is a newly revised edition of the same title that won the 2002 Book of the Year by the International Society for Performance Improvement. The comprehensive Facilitator Guide includes easy to follow instructions for delivering a full-day learning experience. An excellent takeaway for trainers, the Participant Workbook comes complete with exercises, activities, quizzes, tools, and templates.

"The Bottom Line on ROI is not a detailed reference on the ROI Methodology. What it does do is enable readers to understand and make sense of the ROI Methodology from a business perspective." Jack J. Phillips, PhD Developer of the ROI Methodology Chairman and Co-founder, ROI Institute, Inc.

Authors:

Jack and Patty have authored and co-authored several best-selling books, including Show Me the Money: How to Determine ROI in People, Projects, and Programs and The Value of Learning.
Jack Phillips, PhD Jack is a world-renowned expert on measurement and evaluation, as well as the developer of the ROI Methodology™. He has more than 27 years of corporate experience in five industries, serving as training and development manager at two Fortune 500 firms. Jack is the author, co-author, or editor of more than 30 books and 100 articles.
Patti Phillips, PhD Patti is the president and CEO of the ROI Institute. Internationally known as an accountability, measurement, and evaluation expert, Patti facilitates workshops all over the world and consults with USA and international organizations – public, private, non-profit, and educational – on implementing the ROI Methodology™. Find the participant guide and facilitator guidebook at HRDQ.

---
Learn how to Finish Strong
---
---
---
---