Assessment Skills
---

---
Whether you're in the midst of a change effort or just planning one, you'll need Leading Change at Every Level. This diagnostic tool helps drive home the importance of individual behavior to the success of an overall change effort. Assessment Skills,
A 30-item assessment, Leading Change at Every Level is an excellent way to gently surface behaviors that are counterproductive to change, generating scores in 5 dimensions: Modeling the Change, Communicating About the Change, Involving Others in the Change, Helping Others Break from the Past, and Creating a Supportive Environment for the Change.Assessment Skills,
Learning Outcomes:
Examine change behaviors. Develop change leadership skills and behaviors. Generate support for change efforts. Improve ability to lead change. Theory:

Leading Change at Every Level is based on dimensions drawn from relevant literature on change, including both the emerging work on leading change at lower levels and the now classic work on CEO-led change.

Modeling the Change. Communicating About the Change. Involving Others in the Change. Helping Others Break from the Past. Creating a Supportive Environment for the Change. How It Works:
Using a change for which they are currently responsible as a reference, participants complete the 30-item assessment. After indicating how true they find each statement, individuals generate an Overall Effectiveness Score for leading change. Sub scores measure effectiveness in each of the 5 Dimensions of Leading Change. Next, participants learn about the dimensions and how to interpret their scores in these areas. Finally, questions regarding each dimension prompt participants to plan for improvement.
Uses for Leading Change at Every Level
Leading Change at Every Level is effective when used as a stand-alone instrument as well as a component in any change management program. The tool is ideal for employees who:

Are currently leading a change effort and want to identify actions to assist the process. Want to evaluate their effectiveness leading a recent change. Are planning to lead a change effort in the near future. What to Order/Product Contents

Order one Facilitator Guide per facilitator and one Participant Guide per participant.
Facilitator Guide includes:
Administrative guidelines. Theoretical background. Technical development. Half-day workshop outline. Frequently asked questions. Supplemental activities. Sample copy of the Participant Guide
CD-ROM containing Microsoft® PowerPoint® presentation and reproducible masters including The Change Leadership Journey article, Leading Change When You're Not in Charge case study, Certificate of Achievement, Training Evaluation, as well as overhead transparency masters.
Participant Guide includes:
30-item assessment, Pressure-sensitive response form. Interpretive information. Action planning. Find this assessment tool at HRDQ. Click here to visit HRDQ
---
---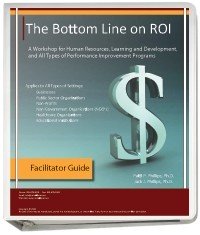 The Bottom Line on ROI

New from ROI experts Jack Phillips and Patti Phillips
Put your money with your mouth is
The Bottom Line on ROI Jack Phillips, PhD and Patti Phillips, PhD
For decades, senior leaders simply accepted learning and development as a necessary "people" cost. But today is different. Today, senior leaders are asking the questions that make some trainers cringe. They want to know what value training and development initiatives bring to the organization. They want to know the business impact, and they want to know the return on investment.
New from subject matter experts Jack Phillips and Patti Phillips, The Bottom Line on ROI is a combination book and one-day workshop. Whether you are new to the ROI methodology or looking for ways to generate support for ROI within your organization, together these tools will provide you with a fundamental understanding of ROI and how it can be implemented. Identify the benefits of developing ROI. Learn how to assess an organization's readiness for ROI. Understand the concept of ROI, its assumptions, and methodology. Find out the criteria for effective ROI implementation. Learn the ROI Methodology, a model that will produce a balanced set of measures. Learn a communication process model for effective communication during the ROI process.Discover how to get started implementing the ROI Methodology. The book is a newly revised edition of the same title that won the 2002 Book of the Year by the International Society for Performance Improvement. The comprehensive Facilitator Guide includes easy to follow instructions for delivering a full-day learning experience. An excellent takeaway for trainers, the Participant Workbook comes complete with exercises, activities, quizzes, tools, and templates.

"The Bottom Line on ROI is not a detailed reference on the ROI Methodology. What it does do is enable readers to understand and make sense of the ROI Methodology from a business perspective." Jack J. Phillips, PhD Developer of the ROI Methodology Chairman and Co-founder, ROI Institute, Inc.
Authors:
Jack and Patty have authored and co-authored several best-selling books, including Show Me the Money: How to Determine ROI in People, Projects, and Programs and The Value of Learning.
Jack Phillips, PhD Jack is a world-renowned expert on measurement and evaluation, as well as the developer of the ROI Methodology™. He has more than 27 years of corporate experience in five industries, serving as training and development manager at two Fortune 500 firms. Jack is the author, co-author, or editor of more than 30 books and 100 articles.
Patti Phillips, PhD Patti is the president and CEO of the ROI Institute. Internationally known as an accountability, measurement, and evaluation expert, Patti facilitates workshops all over the world and consults with USA and international organizations – public, private, non-profit, and educational – on implementing the ROI Methodology™.
Find the toll at HRDQ:
---
---

HRDQ Online Assessments

Welcome to HRDQ Online Assessments

Whether you are a trainer who needs to administer assessments to a large audience, or an individual who is interested in personal development, HRDQ offers online assessments for skill development on a wide range of soft-skills topics, including change management, communication, leadership, negotiating, and more.
Assessment Skills.
---
Online Assessments for Organizations & Groups

Gone are the days of mailing pre-work to participants, shuffling paperwork, and tabulating scores in your head. Now there is a streamlined solution that will transform the way you prepare for and deliver training with online assessments, whether your audience is 20 or 2,000. Welcome to the HRDQ Assessment Center, our online portal that gives you complete control over the entire process, from purchasing and distribution, to administration, scoring, and data management – all with just a few clicks of a mouse.

As a trainer, your HRDQ Assessment Center account enables you to:

Distribute assessments instantaneously to a global audience. Centralize data collection and management. Manage and track the participant progress and completion. Access scores immediately and control the release of results. Provide full-color reports to your audience. Print results on demand. There are benefits for your audience as well, including:
24/7 access to a secure personal account. The ability to complete assessments from any location, at any time.Automatic scoring and instant results. Personalized, full-color interpretive reports. Learn more at HRDQ.Click here to visit HRDQ
---

Online Assessments for Individuals

Maybe you are looking for self-study personal development tools. Or perhaps you want to learn more about yourself. Here is a great place to start! We offer a wide range of online assessments that can help you gain valuable insight, make progress on career goals, and improve your performance at work.Assessment Skills
HRDQ Online Assessments Offer Skill Development in:
Change Management, Communication, Influence, Listening, Negotiating, Personality, Selling Skills, Supervising, and Time Management.
Comprehensive and easy to use, each online assessment includes a personalized report that provides you with all of the interpretive information and action planning you need to inspire growth and lasting change.
All that is required is a few clicks of a mouse. With each purchase, you receive:

24/7 access to a secure personal account. The ability to complete the assessment from any location, at any time. Automatic scoring and instant results. Personalized, full-color interpretive reports.
Go to HRDQ to find this tool, Click here to visit HRDQ
---
Find more tools at HRDQ:

---
---
---