Part II: The Toolkit
The Toolkit contains over 40 techniques and approaches ("Tools") facilitators can use to put together a successful learning experience from start to finish. Part II includes Organizing Tools, Tools for Diagnosis and Discussion, Deciding Tools, Tools for Planning, and Tools to Deal with Problems and Sabotage. With experience, facilitators will be able to choose and adapt the Tools they need to meet their training objectives.
Part III: The Toolkit in Action
See how to put the toolkit into action to prepare for and design workshops in Part III. This section also includes three cases studies as examples of how the toolkit was used successfully.
Click here to visit HRDQ
---
58½ Ways to Improvise in Training is more than just simply a collection of icebreakers. The activities are quick and the well-organized binder makes facilitation a cinch. The activities are categorized by learning objective, and include detailed administrative guidelines and ideas for variation and development.
Inject "Impro Energy" into your next training session with 58½ Ways to Improvise in Training. Defined as a current that runs between participants, you'll recognize it when you see participants who are clearly "in the moment," alert to whatever is going on in the here and now. At its best, "Impro Energy" creates Flow, when the quality of the learning experience is high and seemingly effortless.
The activities are quick (generally under 30 minutes each) and the well-organized binder makes facilitation a cinch. The activities are categorized by learning objective, and include detailed administrative guidelines, debriefing questions, and ideas for variation and development.
Whether you are running a training session, workshop, or meeting, 58½ Ways to Improvise in Training will create an environment of imagination and energy, laughter and commitment. There's no better way to engage participants in the learning process.
Click here to visit HRDQ
---
Why spend your valuable time writing case studies? With Compact Cases, we've done the work for you! This customizable, reproducible collection features 44 succinct situations and role plays that cover a wide variety of training topics.

Topics include: Leadership, communication, negotiation, management development, team building, change management, conflict, self-managing teamwork, and more!
Overview
By definition, a compact case is a brief description of a typical organizational situation that requires change and improvement. For the purpose of this collection, the cases have been restricted to general problems faced in most organizations. For example, what are the leadership issues in an organization that need desperately to change in order to survive? What are the typical problems of communicating within a work group? How can employees with a variety of needs be motivated to perform their best for the team and the organization?
Compact Cases can help initiate the process of learning how to deal with a variety of organizational processes. By first reading about the situation and then sharing reactions to it, participants become aware of important issues and the various perspectives they already have about them. The value of the case can (and should) be stretched to include ways to improve a situation and action planning that commits participants to do something.
Compact Cases consists of 44 fully reproducible case studies in a 3-ring binder that cover a wide variety of training topics. Each case is a short hypothetical situation or scenario that poses a question or problem that participants must try to address or solve. In doing so, participants learn more about key training concepts. The binder is packaged with a CD-ROM containing all the participant handout materials so you can modify settings, dramatic details, or character names for any case in the collection.
Click here to visit HRDQ
---

Delivering high-quality, customized training has never been simpler.
Here is your comprehensive source for soft-skills content that's downloadable, customizable, reproducible, and affordable. HRDQ's Reproducible Training Library offers a full suite of solutions, including instructor-led classroom programs, self-study e-learning, and e-books. From communication and leadership to team building, negotiating, and more, our experts have done the development work for you. Whether you use the materials "right out of the box" or tailor the content to your needs—download to delivery takes just a few clicks. Go to HRDQ now to order these itesm nowClick here to visit HRDQ

---
---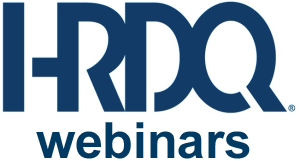 HRDQ Professional Services: Doing MORE with less,...
Duration: 20 minutes
Presenters: The HRDQ Senior Consultant Team - Annette Cremo, Melissa Caldwell, Gary Turner, and John Herr

To meet the demand of "doing more with less," many organizations – both big and small – have realized adding the resources and capabilities of a professional can help teams meet and exceed training goals, increase their levels of expertise, and provide an on-going source of continuous improvement within the organization without hiring additional staff.
HRDQ's Professional Services provides a suite of flexible applications, developed on the principles of our Experiential Learning Model, to help you create a successful training culture in your organization.

This webinar provides insight on leveraging our offerings to produce sustainable and measurable results and will answer the following questions:

• Why should I consider HRDQ Professional Services?
• What services are offered to help me drive strategic value within my organization?
• Who are HRDQ's Senior Consultants and what are their backgrounds and areas of specialization?
Watch this free webcast at HRDQ, now. Click here
---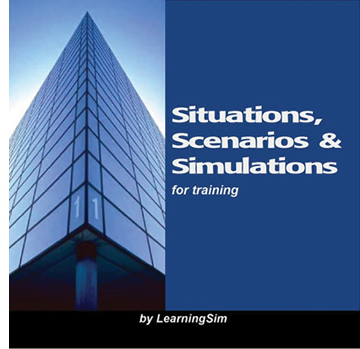 NEW! Reproducible Simulations Library
Get instant access to an incredible library of simulations that you can easily add to your training. The Reproducible Simulations Library is a robust collection of 24 downloadable simulations on compelling soft-skills topics such as decision making, ethics, customer service, giving feedback, negotiation, sales skills, delegation, leadership, and more.

24 Customizable Simulations. Unlimited Use. One price.

Fully customizable and reproducible, each simulation is a stand-alone activity designed to help learners practice real-world skills. Use them "as is," tweak the content to fit your training needs, or add your company's logo. The Microsoft® Word® format makes tailoring quick and simple. Print on demand and use the simulations over and over again. You can even create an e-learning experience for self-study learning!

Here's what you receive for one low price:
Instant access to the full library of 24 downloadable training simulations Reproducible and customizable materials for both the facilitator and participant Introductory Guide to using simulations as an effective learning strategy Trainer's Guide for incorporating simulations into existing training programs, including e-learning
Preview the Reproducible Simulations Library at HRDQ,click here:

---